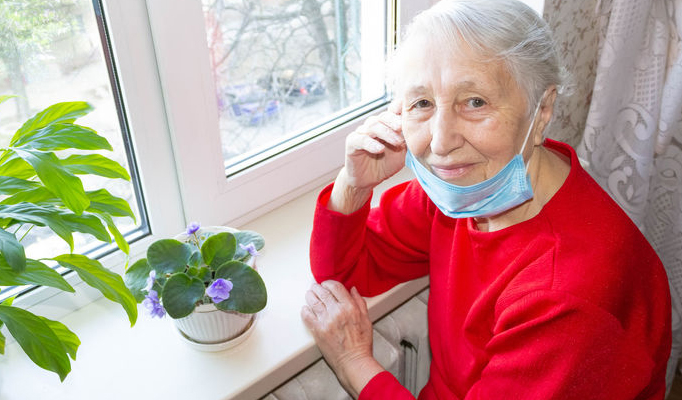 With more than 700 seniors residing on our campus-of-care, there is a wide range of interactions and levels of supporting elderly seniors from families during this COVID-19 pandemic. As I write this today, we have reached 100 days of lockdown. This has meant there have been no visitors in the long-term care homes, and only socially distanced visits for those who live in Assisted Living. Seniors living in our Independent Living apartments have registered visitors and are discouraged from leaving the campus.
Why did people move to this campus of care? For some, it was the direct result of declining health or cognition. They needed assistance that could no longer be provided for by their families. Their decline was assessed to provide them with government subsidized support for 24/7 nursing care. Although we have facilitated over 600 Zoom (video) calls and 1400 Messages of Love (emails that are printed for them), these residents have lived without a visit from their loved ones for 100 days. There is a longing from both residents and loved ones to visit in person.
Some moved to this campus of care to live in the Apartments that allow them to walk to visit their spouse who lives in long-term care. For 100 days, they have not been allowed to enter the building that was their daily destination, to see their spouse of 50 or 60 years, to assist with meals, to assist with emotional support. It has been a trial that they did not expect to face in their later years. Many are concerned that their spouse will pass away without them present.
Some moved to this campus of care in order to benefit from the social life that takes place through the dining, the recreation and the spiritual programs that bring them together. It has been 100 days since all of that goodness came to a hard stop. Residents spend day after day in their apartment suite with few people to visit. They have the phone and Zoom and emails, but it is lonely, and they are struggling to find strength for each day. We are social beings and we need each other.
Every day, family members phone and email to ask us if we will open up the campus to visitors once again. Every day we reply that the lockdown orders are still in place.
For those who live in Independent or Assisted Living apartments (350 seniors), we have opened up social distanced visits outdoors. These small visits have been a saving grace for these seniors. Both senior and visitor are required to wear a mask and duct tape crosses mark where to place a chair 6 feet away from each other. We have a porta-potty for visitors to use so that they don't enter the buildings and bring in the deadly coronavirus unintentionally.
During one visit, I heard the visitor say, "you don't have to wear your mask for me." The elderly couple were sitting 6 feet away. The husband said, "we are wearing the masks for us." I was proud of that man. He was clear that the mask is a protection for himself from this virus that is particularly fatal for those over 80 years old. The visitor, however, was not doing any service for this elderly couple by inviting them to remove their protection from his spittle droplets which can be carried 6ft or more.
I overheard another visitor say, "They are just doing what the government tells them to do." It is true. The Public Health Officer is telling us to socially distance – to stay 6 feet apart from each other to prevent the spread of coronavirus. But we are not simply putting these protocols into place to obey. No! Each of the staff who serve this vulnerable population of elderly people knows that for every four elderly seniors who contract COVID-19, one will die. Die. Not recover. Suffer. Alone.
We look into the faces of those we serve, and we can barely carry the weight of responsibility to keep them safe – and we know that this burden should be shared equally by their loved ones. Yes, the government told us to stay 6 feet apart, but we will do anything to protect our beloved seniors.
When a care home faces the spread of coronavirus, it becomes like a war zone. Every single person who has been in contact with a positive COVID-19 individual must be swabbed for COVID-19. They all must isolate. This means that the staff who surround those elderly seniors cannot come to work until they are confirmed negative. They must stay home and isolate from their loved ones. It may take up to 3 days to get their test results. Who can come to help the seniors if their regular staff are not available for 3 days?
The health region has mandated that no healthcare workers can work at multiple care homes. This is called the 'single site order'. No other care home in the city can send in their trained staff to help us if we get COVID-19 – even if they want to.
What will we do? The administrative staff – managers, CEO, directors, finance – will don their Personal Protective Equipment (PPE), goggles, masks and gowns to provide assistance under the direction of the any nurse who has not been exposed to the virus. They will only be able to do the basics because they are not certified to provide assistance with many tasks such as medications or mobility assistance.
Next, the health region team may come into the care home to assist with support. For some nurses, this will be the first time that they care for individuals with dementia. They will expect these residents to stay in their own rooms to prevent the spread. Many residents, even in the Apartments are individuals whose cognitive abilities disable them from taking instruction. Some are compelled by their dementia to wander.
We will burn through PPE. Every care home uses a PPE 'burn rate' calculator to see how many days they can go through an outbreak with their current inventory of goggles, masks and gowns. An outbreak of COVID-19 is declared when even one person tests positive. After the outbreak is declared, all of the staff will be dressed in full PPE all of the time. The care home will burn through PPE at a significantly rapid rate as they put into place full protection for their team. They will be on the phone with other health care organizations making every effort to procure enough PPE to continue throughout the outbreak, but often, other health care organizations are unable to share as they need to have their own inventory on hand for the day when they may be hit with a COVID-19 positive, and need to declare outbreak.
It will be 28 days without any new cases before the care home will be able to declare that the outbreak is over. The minimum duration of an outbreak is 29 days (plus swab result days) of isolation for everyone – just over a month. This means no exiting of apartment suites or rooms. It means no going outside. No socially distanced visits. Nothing. And during that time, it is likely that people we love will die. If there is more than one case, it means that the nightmare will go on until the infection can be brought under control and there is no spread.
Every care home is facing the challenge of 100 days without visits.
Every care home is figuring out how to arrange safe visits when it is safe to do so.
Every care home is weighing the risk of allowing more people into their spaces, more chances for this horrific virus to meet up with vulnerable people.
Every care home is listening to family concerns about their loved ones' health declining during this time of separation.
Every care home is praying and working toward avoiding the nightmares and war zones that took place when the coronavirus got hold of many seniors and could not be easily brought under control.
So, families, how will you help during this time of difficult separation from the ones you love?
You will continue to love and care and advocate. Phone and talk and share your concerns with us.
If you are allowed to visit outside, you will wear your mask – over your mouth and your nose.
You will insist your loved one does the same.
You will stay 6ft away.
You won't hug, even though it's killing you not to.
You will buy a microphone and speaker if it helps them hear.
You will visit through unopened glass windows.
You will phone your loved one often.
You'll figure out the Zoom thing, even if you're not a computer person.
You will bring joy without adding to the stress of separation.
You will not share your anger about the separation with them – instead, you'll coach them that they can make it through.
You will bring them strength.
You will be more creative than you have ever been to connect, to share stories of your life and those whom they love.
You will be their guide through the loneliness and the sorrows.
You will carefully consider how your small role in the prevention of infection is saving lives.
You will not tell them that "it's ok to take off your mask."
You will encourage them to stay home even if the world around is opening. Stay home from the grocery store, from church, from non-essential appointments with the dentist, esthetician, pastor, chiropractor, doctor. All of these offices are calling, but they are not obligated to go at this time.
You will set your heart and mind to do all that you can to keep your loved one safe while bringing as much joy as you are able with the restrictions.
You will listen to their grieving, disappointment and anger – and assure them that better days are ahead.
You will be their hero.
You will be their sanity.
You will be their rock. This is your role in these difficult days.
You can do it and they will make it out the other side – alive.