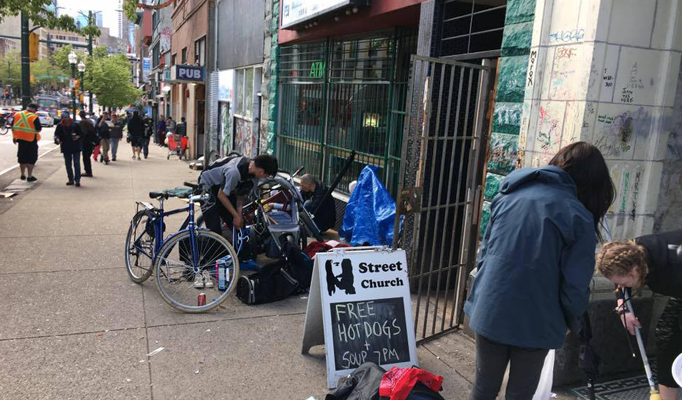 Contemporary writer A.M. Swodboda, addressing a conservation biology class at Houghton College, stated that "creation care is not about polar bears. It's about the poor." If there is anyone in Vancouver who has translated this into tangible expression, it is Randy Barnetson through his street church ministry in the eastside of downtown Vancouver.
Barnetson began the work 25 years ago when he was looking to plant a church. He looked at various locations around the city but, in the end, it was a missions trip to Mexico which changed his life. One morning, on a walk with a Mexican pastor, he saw a dead person on the steps of the church. It was a traumatic experience. He felt the man died trying to get into the church. That profoundly affected him and he felt that God was telling him to get down and dirty with the poor.
He returned to Vancouver and looked at E. Hastings. He said 'no' to the Lord because he thought it wasn't a good place to raise a young family. He thought churches made up of drug addicts and street people couldn't be a good way to build a church.
He tried to ignore his experience and returned to driving a school bus, morning and afternoon. He continued his church which was meeting in Wendy's at Broadway and Cambie. The church wasn't growing but he remembered the word that God put on his heart. When he went out to drive his school bus there was another dead addict in front of his bus – a woman.
The police told him, "don't worry about it, go on your way, it's just a drug addict." God's voice was strong to get down and dirty and this was another confirmation. He looked for a small place east of Hastings. At Clark and Hastings, he saw a sign for rent. He went in to inquire. The owner told him this wasn't the place for rent and took him in his car and drove down Hastings to the current space by Main.
He knew God wanted him there and he got out of the car and looked at the building. The landlord told him they could give him a good deal on rent because no one wanted the space and he had a heart for Christian things. Barnetson has been in this space ever since.
He got a sandwich board and set it out in front. People started coming. The free hot dogs made all the difference. The city said if he had a take-out counter instead of a sit-down dinner then there would be no limits on who could come. The drug addicts loved the sweet ketchup and relish. Randy set it up as a mercy ministry where people could come, pick up their food, and leave. When people are ready to come to the service they can. Some people have had no use for Christianity but after a long time of coming in for food, they choose to sit and stay and listen. The Lord can work on their heart. Every night, people are invited to come to Christ. The cozy room has a brick wall lined with shelves loaded with books. A band plays while people sit at small tables with their hotdogs and coffee. All of it is free.
In the past 25 years, over a million individuals have accessed the free hotdogs, personal care and prayer. Wednesdays and Fridays at 6:30 pm, there is good music and the message of God's word. Sunday meetings are at 11 am and 6:30 pm.
Belma Vardy, author and teacher, has taught at the First Nations Bible College (FNBC) which Barnetson also oversees in the same space. She says that "many indigenous people who have lived on the street get saved at the Street Church services and then attend the Bible College where Randy pours into them sacrificially." "The two-year program leads to a diploma and ministerial credentials."
Vardy says, "Randy leads these people off the street, accepting, embracing them as equals, enfolding them, spending time one-on-one with them, taking them out for a meal, leading them to Christ one-by-one, making disciples, and then pouring into them individually." Students are fed and no tuition is charged. There are at least two outreaches a year to First Nations Reserves.
Jenn Allen, a First Nations woman who worked in the sex trade for 14 years, is an example of those impacted. She is now in training as a pastor at FNBC. Mike Mackay has been with Barnetson for 20 years. Christina Dawson was one of the first graduates and went to plant a church in Nanaimo. A year ago, she started a home church in East Vancouver. Around 100 graduates have finished the training and 300 have gone through some level of training.
Barnetson says "Our goal at the Bible College is to train leaders, pastors, evangelists, church planters and missionaries to reach every one of the 1,000 First Nations communities, reservations, reserves and settlements in the USA and Canada. So far, I have personally visited over 600 Indigenous communities."
A few winters ago, Barnetson kept the doors open during an especially cold spell. Coffee pots operated around the clock and food was doled out. He was hit with a $2,847 Hydro bill. The street church pastor has advocated for a break on taxes for non-profits like his but, in the end, had to rely on the generosity of donors to cover his expenses. Much of the work depends on volunteers and prayerful supporters. "A lot of people care about what's going on down here and want to help out. There is a lot of good will."
The work of Street Church and the First Nations Bible College runs entirely on donations. Donations can be sent to Street Church, PO Box 78029, Vancouver, BC V5N 5W1. On-line donations can be made to vancouverstreetchurch.com.