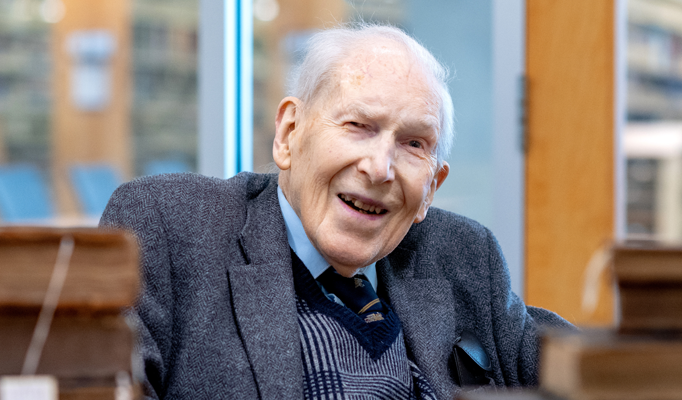 Canada has been blessed to have the late Dr J.I. Packer in our own backyard since 1979. Although born in the UK, he became a Canadian citizen after becoming a Regent College professor. His generosity of spirit has transformed countless Christian leaders. How is it that so many of us have experienced such a personal connection to a global leader?
Dr Darrell Johnson insightfully noted, "One of the Lord's humble giants has been called home. J.I. Packer is what a theologian is called to be: first a forgiven sinner who then gratefully loves the Saviour, and then a sacrificial servant who uses his massive giftedness to equip the church to live for the glory of Christ. I can never repay the debt I owe Dr. Packer for the gift of Knowing God. And now he does as never before!"
Archbishop of Canterbury Justin Welby commented, "Dr James Packer's death ends a wonderful service to God by a disciple of learning, wisdom and holiness. A giant of his time." Geoff Tunnicliffe, former Secretary-General for the World Evangelical Fellowship agreed, saying, "Dr. J.I Packer was a giant of the Faith. Jim had a huge influence in personal journey." Rev Dr Chris Sugden from Oxford commented that John Stott, Michael Green, and Jim Packer were key framers of the Keele Statement which reaffirmed that evangelicals could remain in the Church of England with integrity. Pastor Dave Carson of Hope Vancouver knew Dr Packer from the 1960s in London, commenting that Packer's highlighting of George Whitefield's preaching was foundational in his own life. Archbishop Yong Ping Chung of South-East Asia (ret) said "I had the privilege of getting to know him a little better when he firmly and courageously stood up for the truth of the Gospel against the false teachings, especially during the very difficult and controversial time in our Anglican Communion."
Many famous people become inaccessible and pompous. But not Dr. Packer. His friend Dr George Egerton of UBC noted that "he was famous and revered for his best-selling books but was utterly without pretensions. He had time for anyone. If you needed an article for a journal, or a review, he was always happy to oblige." Rev Ron Corcoran stated he was so delighted and humbled that Dr Packer took the time to read and endorse his book. We are grateful that he wrote the foreword to two of my own books, as he did for so many others.
Packer's many Regent students appreciated how deeply he invested in their lives. Rev Peter Falk remembered that every class they sang the Doxology. Dr Packer was fond of saying, 'Theology is for doxology.' Pastor Macintosh of Heritage Alliance Church rejoiced when Packer taught him that election (being chosen) is about overflowing thankfulness for God's gracious action on our behalf. Bishop Felix Orji feels a deep sense of loss, "He was like a father to many of us. At a personal level, Jim helped me with doctoral thesis – the outline for my doctoral Thesis was hashed out by Dr Packer in his living room one afternoon I went to see him."
Dr. Packer helped redeem the concept of theology, making it accessible and practical. Rev. Dr. John Roddam observed that many theologians are in the ozone but Jim's writings were accessible to the "average Joe." Brian C. Stiller, Global Ambassador for The World Evangelical Alliance, commented, "James Packer was uncommon in his ability to digest a wide assortment of complex and wide-ranging theology and reduce it to its elementary and essential issues. He is a prime example of how those of us in the wider and more popular level of Gospel witness, benefit so greatly from those brilliant in scholarship and at the same time, care so much about and deeply love the Gospel." Dr Rod Wilson, past Regent College President, stated, "I will remember Jim Packer as a man who had a unique ability to link theology with the mere Christian, and the academy with the church. These gifts were bathed in an irenic spirit that made him a gracious man even when dealing with his critics. Intertwined with these strengths was an outrageous sense of humour that endeared him to so many."
Many are grateful for Dr. Packer's humanity, humour and playfulness, especially around meals. Rev. Ken Shigematsu of Tenth Church commented, "J.I. Packer inspired me to choose play that gives life, ennobles, and draws me to God." Rev. Calvin Weber of UCM BCIT was struck by Packer's love for six Hunan peppers on his Hunan Gung Pao Chicken. Dr. Jeff Greenman, Regent College President, spoke of Dr. Packer as both his teacher and friend, regularly making time to share beef curry together at a local Chinese restaurant. Packer, said Greenman "was not only a brilliant thinker and amazing writer, but fundamentally a deeply godly, Christ-loving Christian gentleman, who gave his life to serving the God he loved."
His book, Knowing God, which sold millions, has had the greatest impact of all of Dr. Packer's many writings. Dr. Axel Schoeber of West Vancouver Baptist Church commented, "His book, Knowing God, was hugely formative for me as a young Christian and shaped my approach to ministry once I became a pastor." Rev. Robin Guinness, fellow co-signer of Dr J.I. Packer's Montreal Declaration of Anglican Essentials, observed, "I go back again and again to his monumental work Knowing God. It is also through him that I have been encouraged to rediscover the depth and riches of the great Puritan leaders."
Bishop Peter Klenner said, "The Rev. Dr. J. I. Packer was – in the very best sense of the word – a Puritan. He was a man of the Word. He loved and lived the bible. Dr. Packer was also a Pastor – in the best sense of the word. He cared for people; remembered their names. He loved people and was willing to walk alongside as a pilgrim." David Bornman, West Coast Christian Fellowship, commented, "I am grateful for J.I. Packer's lifelong dedication to the defense of scripture which has been a strength to the church worldwide. In person and in writings, J.I. Packer approached scripture with a wonderful expression of reverence and joy that welcomed each listener to enter his joyful discovery of the glory of God."
When asked late in life by Christianity Today what his final words to the church might be, Packer replied, "I think I can boil it down to four words: Glorify Christ every way."