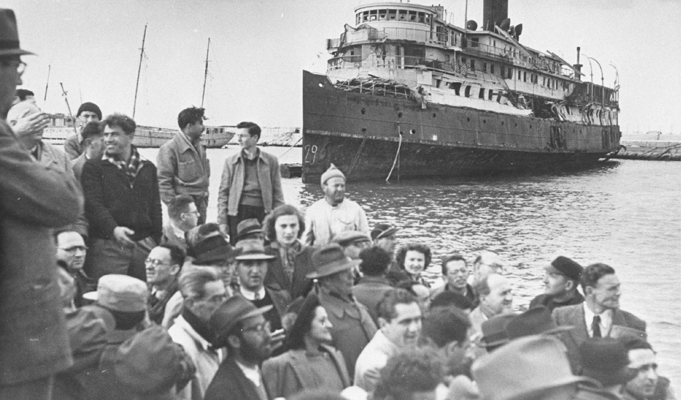 Acts 3:19-21 "Repent therefore and be converted, that your sins may be blotted out, so that times of refreshing may come from the presence of the Lord, and that He may send Jesus Christ, who was preached to you before, whom heaven must receive until the times of restoration of all things, which God has spoken by the mouth of all His holy prophets since the world began.
For two millennia, Christians have expected the Lord's return in their lifetime. Indeed, we are encouraged to look forward to the day of His coming (2 Pet 3:12). However, prior to 1948, if those who had been expecting Him to come, had understood the above Acts' scripture, they would have realized it was not yet possible. The prophets were speaking about the restoration of Israel and the Jewish people in the last days. Prior to 1948 the nation of Israel had been non-existent since the Roman sacking in 70 AD but on May 14 1948 a miracle took place. Biblical prophecies that were written down 2500 years ago began to be fulfilled. The second regathering of Israel.

In Isaiah 66:8 the Bible posed the question, "Can a nation be born in a day? On May 15, 1948 that scripture was fulfilled as the physical nation of Israel returned from 2000 years of oblivion. The Prophet Ezekiel also saw the incredible events of that day as he wrote in Ezekiel 36:8 – 11 But you O mountains of Israel, you shall shoot forth your branches and yield your fruit to my people Israel, for they are about to come. I will multiply men upon you all the house of Israel and the city shall be inhabited, and the walls rebuilt.

This is what Acts 3:21 says must occur before the Lord can return. The fact that Israel is once again a nation in the earth, clearly places us in the era when the Lord's return is a definite possibility. The set time has come – Ps 102:13 You will arise and have mercy on Zion; for the time to favour her, yes, the set time, has come (v16) For the LORD shall build up Zion; he shall appear in His glory.

The Restoration of Israel notable events:
* 1897 1st International Zionist Conference at Basel Switzerland
* 1917 General Allenby liberates Jerusalem
* 1947 UN grants Israel statehood
* 1948 May 14 Israel officially a nation
Arab nations declare war
* 1967 Six Day War – Jerusalem reunited after 1900 years
* 1973 Yom Kippur War


Ezekiel went on to prophecy the restoration of the Jewish people to the land of their forefathers. Ez 37:4 & 6 O dry bones, hear the Word of the Lord; I will put sinews on you and bring flesh upon you, cover you with skin and put breath in you and you shall live.
We have all seen pictures of the survivors of the Nazi death camps. They were not much more than living skeletons, but they came back to life and many, many of them made their way to the new state of Israel. They were among the first-fruits of the 5 million 'dry bones' Jewish people who in the last 100 years have returned to the land that the Lord promised to their forefather Abraham. It looked very much like the prophetic picture of Isaiah 11:11 – 12 It shall come to pass in that day that the Lord shall set his hand again for a second time to recover the remnant of His people who are left …He will set up a banner for the nations and will assemble the outcasts of Israel and will gather together the dispersed of Judah from the four corners of the earth.

It was nothing short of a miracle – to gather people from every nation on the earth and to bring them to a tiny country in the Middle East, where their arrival was not exactly popular with the surrounding Arab countries.

The restoration of the Jewish people to their land has been extremely controversial. At every step war broke out and the Israelis gained more ground, much to the deep displeasure of most of the world's governments. The United Nations has been one of Israel's strongest critics. Since 1948 the majority of UN resolutions have been against Israel's occupation of the territory that the Lord has restored to the Jewish people. The Lord expresses His feelings about world leaders in Psalm 2.

As Bible believing Christians, we should view the events currently taking place in Israel through the filter of God's Word which makes the land ownership issue very clear cut; Jeremiah 30:3 For behold the days are coming says the Lord that I shall bring back from captivity my people Israel and Judah, says the Lord, and I will cause them to return to the land I gave their fathers, and they shall possess it.

Unfortunately a great number of Christians have chosen to view the disagreement between the Israelis and the Palestinians through the filter of the secular media. Instead of seeing Israel's re-occupation of the Land as a transgression of human rights, we should see it as a clear sign of the return of the King of Kings, to take up His rightful place on the Throne of David, on the Temple Mount in a united Jerusalem.

In the next and final part of this article, we will investigate an even more significant sign of the Lord's soon coming return – the rebirth and on-going growth of the Messianic Jewish congregations in Israel and around the world