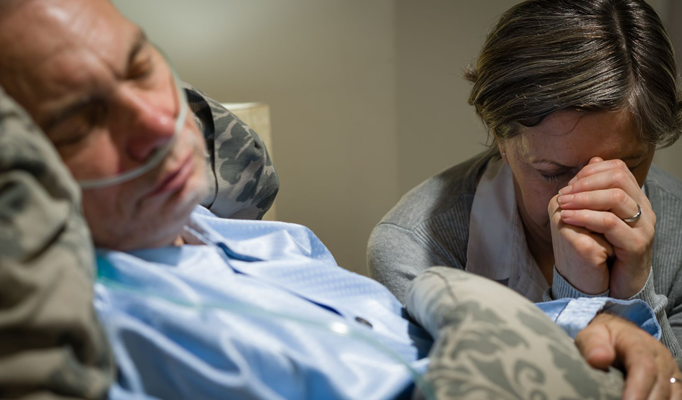 In the 70th year of Queen Elizabeth II, in the First Session of the Forty-fourth parliament, on February 4, 2022, the first reading of Bill C-230 occurred in Ottawa. Few of us who honour our medical professionals took time away from the news headlines to realize the significance of Kelly Block's private member's bill. The design was to amend the Criminal Code to "make it an offence to intimidate a medical practitioner, nurse practitioner, pharmacist or other health care professional for the purpose of compelling them to take part, directly or indirectly, in the provision of medical assistance in dying." The short title is the Protection of Freedom of Conscience Act. It is a renewal of a bill proposed by the late Mark Warwara that died on the Order Paper with the introduction of the government's Bill C-14. This is Block's second attempt after the February 18, 2021 version died on the Order Paper due to an election.
The issue has arisen again as the borders of the 2016 Medical Assistance in Dying Act are enlarging to include Canadians who are not imminently dying and soon will include those who have mental illness alone. A study is ready to consider how mature minors may also be considered and how those who can't give their own consent may also be included in doctor assisted suicide. There are reports of individuals who have housing, financial or social challenges also volunteering to be put to death. The potential for conscience objection might also expand if permitted. Afterall, Section 2 (a) of the Charter classifies conscience rights as a fundamental freedom.
In line with this, the preamble to C-230 says that "Whereas everyone has freedom of conscience and religion under section 2 of the Canadian Charter of Rights and Freedoms; Whereas Parliament considers that it is in the public interest to protect the freedom of conscience…; And whereas a regime that would require a medical practitioner, nurse practitioner, pharmacist or other health care professional to provide effective referral to patients could infringe on the freedom of conscience of health care professionals; Now therefore, Her majesty, by and with the advice and consent of the Senate and the House of Commons of Canada, enacts as follows:"
The conscience of the individual is clearly the point of the legislation. But will conscience be accepted in an area that has been mandated as an essential health care service? David Cooke, of the National Campaign Life Coalition is petitioning for the bill and says that "whether it be for religious, moral, ethical, or common-sense reasons, they [health care professionals] believe it is never in the best interests of their patients to be murdered!" He cites the 2019 World Medical Association policy which states that "no physician should be forced to participate in euthanasia or assisted suicide, nor should any physician be obliged to make referral decisions to this end."
NDP MP Randall Garrison objects to the bill by citing the Ontario Court of Appeal 2019 ruling in the case of the Christian Medical and Dental Society of Canada versus College of Physicians and Surgeons in Ontario. In that case the courts ruled that physicians were obligated to refer patients despite their personal objections in areas like abortion, gender reassignment surgery and medical assistance in dying. In Canada, as of the end of March 2022, there are 21,589 people had who have died through MAiD.
The Criminal Code of Canada, in Subsection 24 (1) still makes it a criminal offense to counsel or aid in a suicide. We read there that "Everyone is guilty of an indictable offense and liable to imprisonment for a term of not more than 14 years who, whether suicide ensues or not, (a) counsels a person to die by suicide or abets a person in dying by suicide; or (b) aids a person to die by suicide." This exists, despite MAiD, and may be another reason for an uneasy conscience.
The Euthanasia Prevention Coalition is working to reach 20,000 signatures on a petition in support of Block's bill. When we have bills like C-4 formulated to say that individuals cannot be manipulated or forced to undergo conversion therapy it would seem an easy sell to focus on individual conscience as an important thing to protect. The pressure on medical professionals continues to be intense. Recent legislation has notoriously been slanted against the rights of religious groups or institutions in favour of the rights of individuals who may align outside the core beliefs of that religion or institution.
The Catholic Register cites Cardinal Thomas Collins saying "I have long been an advocate for legislation protecting conscience rights especially as it relates to assisted suicide." Bill proposer, Block says that "the bill will protect medical professionals from intimidation and coercion in the same way that workers are protected from intimidation or coercion if they want to form or (join) a union."
Before the 2016 MAiD legislation was first proposed a survey of physicians showed that 63 percent opposed participation in any form of assisted suicide. The Conservative Saskatchewan MP (Block) says "we need to create a work environment for medical professionals that protects them, supports them and encourages them to continue in the critical work they do."
The bill also made it an offence "to dismiss from employment or to refuse to employ a medical practitioner, nurse practitioner, pharmacist or other health care professional for the reason only that they refuse to take part, directly or indirectly, in the provision of medical assistance in dying." The 75,000 member Canadian Medical Association has endorsed the principle of freedom of conscience but sees the specifics of whether to practice MAiD or not as open for debate.
On March 28, 2022, within the House of Commons debates during the second reading, Block defined conscience as "an individual's inner sense of knowing the difference between right and wrong and allowing that knowledge to guide their behaviour." She says her bill is in response to "disability rights groups, first nations, The Ontario Medical Association, legal experts and many medical and mental health professionals to protect conscience rights." She says this is also not about the patient's rights versus the doctor's rights. "Health care is fundamentally about the doctor-patient relationship….This bill protects the doctor-patient relationship by ensuring that doctors and other medical professionals are always able to recommend and provide the care they believe is best for the patient."
For those concerned with supporting health-care professionals, check out the petitions listed above or contact your MP.