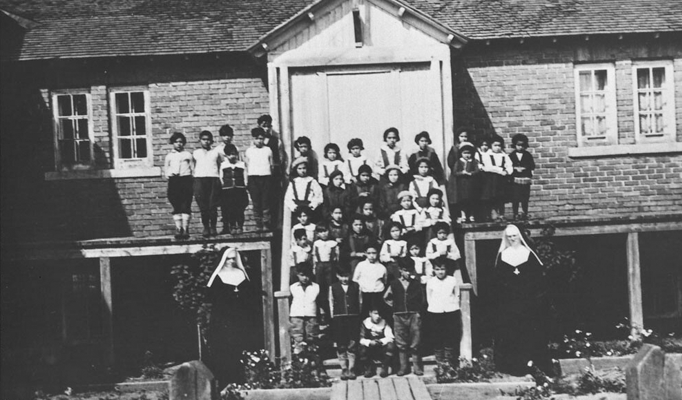 Written by Ruth Hird and Rev. Dr. Ed Hird
Oh, Canada…we have so much to answer for. What would it take for us to truly rediscover that every child matters? Before the COVID lockdown, I (Ruth) attended the Children of God musical where Corey Payette performs 'Gimikwenden Ina (Do You Remember)'.  I invite you to listen to this song in remembering the 215 souls. (If it ever returns to Vancouver, may I humbly suggest you see it.) 
Many Canadians have been stunned by the revelation of 215 indigenous children found in an unmarked Kamloops grave. Founded in 1893, Kamloops Indian Residential School had once been the largest residential school in Canada. The National Centre for Truth and Reconciliation had only previously confirmed 51 deaths at the school. Ground penetrating radar was used in this discovery.
Dr Peter Henderson Bryce, Chief Medical Officer for the Federal Department of Indian Affairs, wrote a devastating suppressed report in 1907 about health deficiencies in native residential schools. At one institution, the File Hills Colony residential school, Bryce found that 69 per cent of all alumni had died, almost all of them from tuberculosis. Bodies of indigenous children who died in Canadian residential schools were not sent back to families, and parents seldom learned the context of a child's death. The Department of Indian Affairs in 1938 wrote, "It is not the practice of the Department to send bodies of Indians by rail excepting under very exceptional circumstances, adding that it was "an expenditure which the Department does not feel warranted in authorizing." Often, the only death notification would be to forward the child's name to the Indian Agent at their home community. The final report of the Truth and Reconciliation Commission tells us that "In many cases, school principals simply reported on the number of children who had died in a school, with few or no supporting details."
I, (Ruth) (Ed's daughter-in-law) am a direct descendant of a Cree Princess who married a Hudson Bay Company Chief Factor. Ultimately, the plan to take the "Indian out of the child" failed, as it is at the core of who we are as a people. There is a longing to embrace and experience who we are. My mother had a deerskin leather purse with Cree beading on it. She often talked of how she used to watch the women smoke the deerskin over campfires. As a child, I used to go into her room and pick up the purse. I would run my fingers over the beads, and would bury my nose into the hide, and I could still smell the smoke from the fires. It filled me with a sense of wonder and belonging. These were my people, even if I didn't know them.
There is a power in knowing one's identity, even from a young age. My youngest child 'danced' in the womb when hearing an indigenous grandmother singing in her native tongue. When I hear traditional drumming, my heart skips a beat.
The reason that many Indigenous families sent children to the day schools originally is because they needed their children to learn English in order to trade effectively. By the time they realized the real intent behind the schools, to remove them from their way of life and assimilate them entirely, it was too late. The First Nations wanted to learn in order to preserve a value they held (fair trade.) Instead, what they had was ripped away from them. It is shocking to realize that the last indigenous residential school only closed in 1996.
The trauma of the 215 dead children caused me (Ruth) to reflect in a Facebook 'poem':
So, if you are complaining about your inability to go to church in person
About having to wear a mask in public
About being "pressured" to get a vaccine
About lockdowns taking too long and losing your freedoms
If you are comparing "socialism" to Hitler
If you complained about cancel culture….
Then raise your voice in outrage and grief now.
215 Indigenous children found dead in a mass grave.
215. Because of some christians.
Give your heads a shake. Mourn with those who mourn. Take a knee for justice.
How could this have happened in Canada? How can this be prevented in the future?
In what way is this sad situation traceable to the misguided Davin Report, written by Nicholas Flood Davin, Publisher/Founder of the Regina Leader-Post newspaper?
Poorly thought-through educational decisions can have tragic consequences. There was no need to have replaced the local simpler schools with the centralized industrial schools as recommended by Nicholas Flood Davin's Report. The existing local schools had enabled the indigenous children to still live with their parents. Davin was not satisfied, saying "The child, again, who goes to a day school learns little, and what little he learns is soon forgotten, while his tastes are fashioned at home, and his inherited aversion to toil is in no way combated." Sadly both the Canadian government and the Canadian churches uncritically accepted the Davin Report claim that "it was found that the day-school did not work, because the influence of the wigwam was stronger than the influence of the school."
By hastily imitating the apparent success of the American native residential schools, great and lasting harm was done. The Davin Report patronizingly said: "The experience of the United States is the same as our own as far as the adult Indian is concerned. Little can be done with him. He can be taught to do a little at farming, and at stock-raising, and to dress in a more civilized manner, but that is all."
The Davin Report is ground zero to the deep wound that Canada systemically inflicted on the First Nations. Davin, who later killed himself, sold the Canadian public on indigenous residential schools as "a sacred duty".
Sadly, we tend to repeat the same mistakes over the generations, including the suppressing of indigenous languages in the Canadian educational system. For hundreds of years, the English educational system had systemically suppressed other languages and cultures. We need only look at the historic suppression of the Irish, Scottish, Welsh and Cornish languages and culture in the English-dominated educational system in the United Kingdom.
Perhaps we might rediscover from this grievous situation that family is more important than education for our society's health. Allowing education to replace family connections is a guaranteed lose/lose situation. The Canadian government, and complicit churches, deeply harmed the family relationships of the indigenous Canadians in a way that is still negatively impacting them today.
It is hard to realize that the Canadian elite, many from an English background, mistakenly believed that they were helping the indigenous children in sending them to residential boarding schools. Sadly, the upper-class English had earlier lost their own family connection in sending their children away to boarding schools. Only the wealthiest were sent away. In the mind of the English, being sent away to a residential boarding school was a privilege. The English elite idolatrized education over family with tragic results. The resulting emotional deprivation, including well-known sexual abuse in the English schools, was reported on by the famous author CS Lewis in his autobiography Surprised by Joy.
Lewis recounted six years of deeply painful residential school living in England. He, and his older brother Warren, were traumatized by a brutal schoolmaster at their first boarding school, Wynard in Watford. Lewis called Wynard "Belsen" after the Nazi concentration camp. A few months before Lewis' death in 1963, he stated that after fifty years of struggling, he had finally forgiven the headmaster Capron, who had so damaged his earliest boyhood. In a letter to a young person, Lewis wrote "I was in three schools (all boarding schools) of which two were very horrid. I never hated anything so much, not even the front-line trenches in World War I. Indeed, the story is far too horrid to tell anyone of your age." Lewis' second residential school, Malvern, was rife with bullying and sexual abuse. After Lewis threatened to shoot himself, his father relocated him to Great Bookham, Surrey, to be taught by a private tutor, William Kirkpatrick…"
If CS Lewis were alive today, he would relate deeply to the residential school trauma of our indigenous Canadians. Reconciliation and forgiveness come through facing painful truths. We were sold a bill of goods by Nicholas Flood Davin. We as Canadians have deeply harmed the indigenous people through our naivety. We need to grieve with those who grieve. Too many indigenous Canadians have died, including the 215 children in Kamloops. We need to stop sacrificing family life on the altar of education, especially for indigenous Canadians. May the Prince of Peace bring deep restoration to the painful wounds left by Canada's residential school tragedy. May the truth set us free.