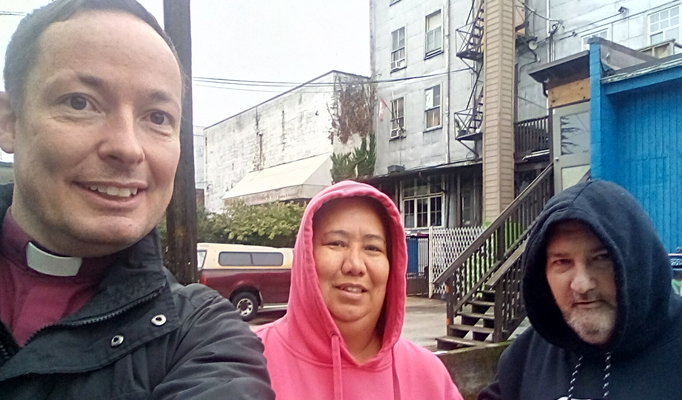 On a recent afternoon I made my way to Vancouver, to an address on East Hastings Street, in the heart of the downtown east side. Dozens of times in the past I had driven this infamous street, with its' share of homeless and destitute people, but I had never stopped – other than for a red light. Now, I was set to interview John and Jen Riley who, not too long ago, had started a new ministry for the people of the downtown east side (DTES).
The location was the Woodbine Hotel; built around 1912 and still in use, catering to those needing low rental accommodation.
When I arrived at the hotel, John met me to unlock the front gate and the door, and we climbed the two flights of stairs. More than a century of use has left its mark on the Woodbine with its peeling paint and decaying appearance. Jen was waiting at the door to their room. They told me that Bishop Joel Dooley; a neighbouring renter in the same hotel would be joining us.
Dooley had spent many years providing palliative care in Hospices in Victoria and was involved with different missions around the world. He is now the Bishop for Canada within the Old Catholic Apostolic Church. Besides his work within the diocese, which includes a Ministry to Muslims, he is often helping the people on the DTES.
The room the Riley's rent is approximately 12 feet by 12 feet and contains a counter with a sink, kitchen cupboards, a closet and a small window. Bathroom facilities are shared down the hall. Furniture consists of a bed, a table, shelves for storage, a stool, chair, mini fridge and microwave. To live here they pay $750 per month. Dooley lives in a similar room. Although small, and lacking in what many would consider essentials, this is their home and a safe haven, and is much more than what most of the people they meet each day have access to. By living in the DTES themselves the Riley's and Dooley are personally aware of the daily struggles and issues of their neighbours.
For the Riley's the hardship of living on the street is not an unknown experience for them, but one they have lived themselves. For Dooley, it was the loss of his brother to an overdose while on the streets that compels him to want to help others in a similar situation.
The Riley's sat on the edge of their bed, and Dooley and I sat across from them – the couple shared about their lives.
John, who is 53, was born in Canada. His parents divorced when he was seven. He spent six years with his father in England and remembers at the age of 13 becoming a Satan worshiper after spending much time watching horror movies such as The Omen, and listening to heavy metal groups like Slayer and AC/DC. He read Anton La Vey's The Satanic Bible and believed that "The more you are into Satan, the more power you get." He began using and dealing drugs and was arrested for armed robbery and sentenced to a year in jail. This was later reduced to a month. Thinking back, he says "life was so dark." While in jail he read Christian books but didn't know why he was doing so. John reached out to his mother in Canada for support. She agreed that he could come live with her but only if he promised to accompany her to her church for a year. He agreed and attended church wearing his usual attire and still listening to heavy metal through his headphones. Despite the headphones the gospel message still reached him and within the year both he and his new friend Rob went forward for prayer during an altar call. John believes it was the prayers of his family members and others and the love he received from them that God used to get through to him. Together with Rob he became involved in wrestling, both participating in and managing events and they were six weeks away from a long planned-for debut when Rob was killed in a targeted shooting. This tragic loss "broke me for a long time" says John, and he spent many years being actively involved in the "darker side of life."
Jen's story began 43 years ago in Whitehorse in the Yukon, where she was born to a mother who was dealing with the issues surrounding being a survivor of the Sixties Scoop and residential schools. When Jen was three and a half she was placed into foster care after her mom was convicted of manslaughter. She spent the next years living in different homes, not getting the care and nurturing a child her age needed. When Jen was nine, she was placed with a Christian family and during her time with them, until she was 18, she experienced firsthand what being a Christian was about. She learned it isn't simply following rules and regulations but it's about having a relationship with God. At 13, Jen began to worship Jesus Christ. When she became an adult her time with foster care came to an end and she was reconnected with her family in the Yukon. The people she met there, although biologically her family, were strangers to her. Jen moved to Prince Rupert to stay with an aunt and uncle who ended up being abusive to her. She was invited to go to house parties and bars and met many different people. This led to Jen being able to make money babysitting the children of the people she met. Later, she realized these new acquaintances were recruiting her into prostitution. She was horrified when she heard she would have to have sex with men. Jen's own descent into the "darker side of life" had begun. Years of being a prostitute, and a licensed escort, of being robbed by pimps, of being charged with assaulting a police officer, of being addicted to crack cocaine and alcohol followed. Understandably, as Jen now says, all of these behaviours and events "took hope away."
It was after a pimp attacked her and the subsequent help she received from a safe house that Jen began the long trek out of darkness. Along the way, there were still curves in the road that led to bouts of Jen living her former life, but it was with the help of The Salvation Army, Union Gospel Mission and a recovery house that she was finally able to break into the light.
Jen had seen the happiness the people who worked at the Salvation Army radiated and she knew she wanted a change – to become closer to Jesus. She came to realize that "Jesus is my hope and the only one who can give me a life." Jen attended the Salvation Army War College and became a Soldier in 2014. She went on to attain a diploma in Pastoral training through First Nations Bible College and completed a practicum at Living Waters church, both located in the DTES.
It was at the Bible college where Jen and John met. His journey had led him to a similar destination as her. John also wanted to know Jesus better and to serve others. He now says, "It was always me who walked away, and I had to see the light."
Now when people come up to John asking if he has any drugs to sell, he replies "No man, I don't sell dope. I sell Jesus."
John and Jen married earlier this year and have started a street ministry named Midnight Ministries reaching out to the hurting people of the DTES.
They walk the streets and back alleys; the very places where deals are being made, to offer hope and love by sharing food, prayers and encouraging words and by listening to the stories people tell.
I interrupt to ask if they are ever afraid to go into those back alleys.
Without a second's hesitation John, Jen and Dooley tell me that they are not afraid but feel they are called to go into the back alleys. This is not to say that troubling things have not happened. One night they knew that they were being stalked. Everywhere they went they experienced intimidation in an effort to scare them away. The scare tactics accelerated when the yelling and name calling included a gun being fired. John was certain it was a fake gun used to frighten them. It was just "another day in the jungle" says John, marking it down to demon warfare. "So much is about death in the DTES and there is much grief" says Dooley, reinforcing the thought that the spiritual battle lines seem to be sharper in this neighbourhood. They have all been yelled and sworn at many times by others, but they remain unfazed and continue to walk the streets with the love of Christ. When approaching people, the Riley's will often ask "can I pray for your safety?" They are seldom refused.
They share that for people coming to live in the DTES for the first time it can be especially scary and they take the time to talk, listen and pray with them.
Besides being a street pastor with Midnight Ministries Jen is also an overdose prevention worker and held up the gray Narcan, or Naloxone, kit she carries with her when she does her work. She administers the opioid overdose reverser and starts lifesaving procedures before the paramedics arrive. John and Dooley will often attend offering encouragement to the person affected, and to those nearby. Many survivors will be grateful for being revived, but disappointingly start using drugs again shortly afterward. The three find this can be frustrating, but know it is a sign of the strength of the addiction. Thinking back to his own struggles, John reflects "Your mind is the toughest neighbourhood when dealing with addictions."
There are also barriers preventing people from becoming free of addiction. They cite that there are not enough detox facilities, or recovery homes and the waiting list to get the needed help is too long. Sadly, when a person has gone through the help to become free, they are all too often soon back in the DTES and surrounded by temptation. The Riley's, and others, are proof the possibility of living addiction free is possible and they, as well as Dooley encourage family members to continue to pray for those on the street. "Keep praying," they stress, "God can reach anyone."
They would also like to counter the stigma many people outside of the DTES have towards those living in the neighbourhood and suggest not to judge a book by its' cover. Each person has his or her own personality and story.
It is for those "living in a world which is a kick me down society" according to John, filled with fear, addiction and desperation, that John, Jen and Bishop Joel are offering hope and compassion. Jen shares "People are often amazed that others will show them love and care."
Your help would be valued. Most importantly by praying for the three of them, the ministry and the people of the DTES, or/and by offering other forms of support.
For more information, contact John at 236-818-3497, or Bishop Joel at dooleyjoel36@hotmail.com.
Our meeting had come to an end and John walked me out of the building, making sure I was safe.
When I arrived back at my home in the Fraser Valley, I realized that not only was my notebook full, but my heart and mind were overflowing as well. I walked through the kitchen to the dining room and onto the deck. The flower baskets I had babied all summer were still going strong. I looked at them and felt feelings I could not put into words.
I came across this verse and it made me think of the hope through Jesus Christ that is there for any of us; including anyone living in the DTES.
For you have delivered me from death
and my feet from stumbling,
that I may walk before God
in the light of life. Psalm 56:13 NIV