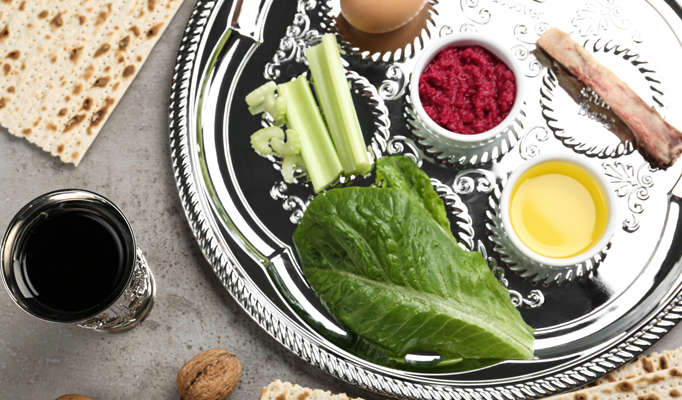 The dramatic events of the original Passover had life and death significance for the generation that God rescued from Egypt. They are also tremendously powerful for us today. This original Passover pointed forward to another momentous Passover in Jerusalem that would take place 1,500 years later in the life of Yeshua, Jesus the Messiah.
During Passover, we remember how God visited Israel in Egypt and delivered them from slavery. God revealed Himself to Moses at the burning bush and sent him back to Egypt to bring the Israelites out. Pharoah would not listen, so God sent ten powerful plagues in judgement. It was only after the tenth devastating plague – the death of the firstborn (Exodus 12:12) that Pharaoh finally consented to let the Israelite people go. It was during this tenth plague that the Passover was initiated.
Bitter herbs
In Egypt, during the tenth plague, God's people were to kill a lamb, put its blood on the door of their homes and then "eat the flesh on that night; roasted in fire, with unleavened bread and with bitter herbs" (Exodus 12:8)
The bitter herbs speak of the bitterness of the slavery in Egypt. "And they made their lives bitter with hard bondage – in mortar, in brick, and in all manner of service in the field. All their service in which they made them serve was with rigor." (Exodus 1:14) We all have experienced bitterness in our lives – sickness, the death of loved ones, financial hardships and more. During Passover, we remember what God said to Moses at the burning bush in Exodus 3:7 – "I have surely seen the affliction of my people who are in Egypt, and have given heed to their cry, because of their taskmasters, for I am aware of their sufferings."
God in His mercy wants us to know that He has seen our hardships and has heard our cries. God knows our sorrows and has sent us a deliverer!
Unleavened bread
Yes, God's people fled in haste before the dough had time to rise, yet there is a deeper spiritual meaning to the unleavened bread.
Leaven speaks of sin in our lives that must be removed. God requires that we confess our sins and be willing to remove them from our lives. Sins can include ignoring God and not loving or honouring Him; living a life of selfishness and self-centeredness; unforgiveness towards others; speaking evil of people; lying and many other wrongs.
At Passover, God calls us to admit that we have sinned and be willing to remove sin from our lives… It is the feast of unleavened bread!
The shank bone
This takes us back to the tenth plague – the death of all the firstborn in Egypt.
To protect their firstborn, God told Israel to take a lamb, kill it and place the blood on the doorposts and lintel of their homes. Why?
"For I will pass through the land of Egypt on that night and will strike all the firstborn in the land of Egypt, both man and beast; and against all the gods of Egypt I will execute judgment: I am the LORD. Now the blood shall be a sign for you on the houses where you are. And when I see the blood, I will pass over you; and the plague shall not be on you to destroy you when I strike the land of Egypt" (Exodus 12: 12-13)
God provided a substitute – the lamb would be killed instead of Israel's first born. God said, "when I see the blood, I will pass over you".
This is God's way throughout the Scriptures. When God told Abraham to offer his son Isaac, instead He provided a substitute – the ram.
On Yom Kippur, the Day of Atonement, a goat was killed, and its blood was sprinkled to forgive our sins. God provided a substitute.
And this was the great purpose of our Messiah. Yeshua, in His innocence, would be the Passover substitute and provide blood atonement for the sins of us all.
It is no coincidence that Yeshua, Jesus, was called the Lamb of God and was put to death on Passover. When we, by faith, place His blood over our lives, the bitterness of God's judgement passes over us. In Yeshua the Messiah, we have redemption through His blood and the forgiveness of sins.
At Passover, God provided a substitute. Just as the firstborn in Egypt could not save themselves, neither can we. They needed a substitute and so do we. There is no other way; there is no other Name.
The Day of Judgement is coming, but when God sees Yeshua's blood over our lives, His judgement will pass over us!
By Messianic Rabbi Jeff Forman