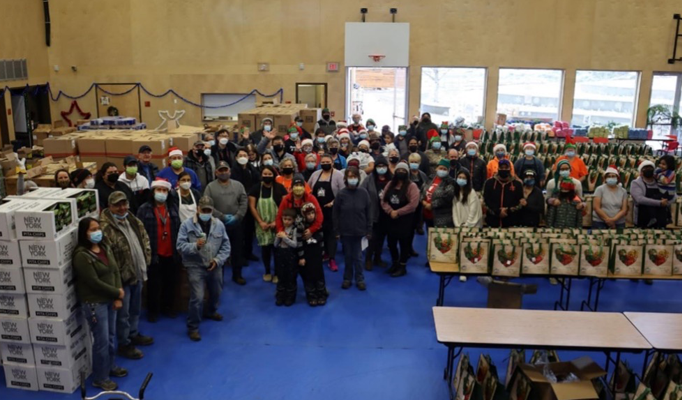 Expectations were modest when directors of the Love First Nations Ministry (LFNM) planned a Christmas Outreach to the Flood and Fire Victims of Lytton (Nlaka'pamux). They certainly didn't expect to be sending a semi-trailer truck load with enough goods for 500 hampers to meet the needs of the 2000 residents. They didn't expect the 80 volunteers to unload the trailer and set out the love offerings for the Lytton Strong campaign. A $55,00 donation from Fellowship Baptists helped make this happen. 200 pillows and blankets are now being collected.
In addition to the 500 hampers, 260 Christmas gifts were given earlier for students and staff at Kumsheen Secondary and Stein Valley Nlakapamux Schools. Gift cards and groceries with meat and milk have been a regular part of the ministry provisions to scattered residents. Friendship and faith are also offered during interactions.
Field Director, Peter Park (Faith Fellowship Baptist Church Associate) and treasurer Caleb T.K. Lee (Vancouver Yedalm Evangelical Church) have been active in the area since 2007. They've been making the three-hour drive monthly in all kinds of weather since they started reaching out to First Nations friends in Lillooet and Vernon. Contacts in Lytton were established and partnerships with a dozen Korean churches and a few multi-cultural churches enabled them to launch a ministry outreach in 2017. They made their mark through service: cleaning the streets, picking up garbage, cutting lawns, giving hair cuts and hosting a basketball tournament.
Protocols were followed and relationships were established in the community through multiple events, including summer camps, community meals and music concerts. Groups have exchanged culture, food and dance. A close working relationship was established with the First Nation Band, with the AG Market, with Lytton Elementary School, Stein Valley School, with Helping Hands and others. Of course, when 90% of Lytton burned down, the fire provided ministry obstacles and opportunities.
The discovery of 215 unmarked graves in Kamloops at a residential school raised the profile of ministry to First Nations friends. The fire and the floods have only added to the urgency in reaching out to the diaspora who long to return and build roots again. "We have a deep mutual respect which we share in our times together," Park says. "We are sensitive to the history of the residential schools but we don't carry the same history as other Canadians might." When the fire devastated the town LFNM adjusted its efforts to communities like Merritt with family festivals.
Park says, "hoping to deepen friendship in tandem with spiritual care in Christ, our leaders frequently contact school teachers, social workers and business owners in Lytton. Extra attention since the fire (and flood) has provided natural and friendly opportunities to share faith and to pray for their families.
The Lytton, Skuppah, Nicomen, Siska and Kanaka Indian Bands form the First Nations heart of the area where the Canadian National and Canadian Pacific railways pass through and the Trans-Canada Highway weaves its way by. Lytton hosts the Coast, Lillooet and Botanie Mountain ranges with their thick pine forests and vibrant waterways. Explorer, Simon Fraser visited this 'meeting place' (camchin) in 1808 and the gold rush saw its share of miners charge through here.
The English name, Lytton, actually comes from the British Colonial Secretary Edward Bulwer-Lytton who penned the famous line "it was a dark and stormy night…" It certainly has been a dark and stormy time for the community. LFNM uses a leadership team who function more like a jazz band than a typical organization.
In addition to Park and Lee the leadership team includes current executive director Paul G.M. Hwang (Abbotsford Vision Missional Church) and field director Daniel Wonhee Park (Life Place Mission). Other key leaders and supporting churches include Junho Chang (Sandol Fellowship Church), Winston Saw (Myanmar Canadian Fellowship Church, Paul Olson (South Ridge Fellowship Baptist), Irhya Mahamadou, Mark Buhler, Jack Taylor (Faith Fellowship Baptist), Mel Reimer (Mountainside Community).
Recent LFMN updates can be seen at
https://www.youtube.com/channel/UCD_37TXpd6zPSDzO7ZYNJ7Q
The possibility became reality when BC Fellowship Baptist Churches added $55,000 to the effort and when Lytton AG Market donated goods. Fellowship Pacific issued the following statement prior to the most recent tragedies:
"On behalf of our family of churches in Fellowship Pacific, we express our sincere and heartfelt sorrow at the discovery of the remains of 215 Indigenous children buried outside of the Kamloops Indian Residential School. Sadly, we recognize that there may yet be other atrocities discovered across our country in similar settings. We cannot claim to fully understand the depth of grief this brings, but we do desire to stand alongside the Tk'emlúps te Secwépemc First Nation, and all First Nation communities in Canada. We acknowledge that the Canadian church participated in the colonial perspectives and postures that caused the pain endured by First Nation families and communities through the Residential School program. We also acknowledge that while the history of Fellowship Pacific does not include direct involvement with Residential Schools, individual Baptist churches in Canada were participants. As such, we accept the moral obligation incurred by the role that Christians, and those who called themselves Christians, played in harming the original inhabitants of this land and their culture through participation in the Residential Schools. It is important to state that these tragic events and the premises that precipitated them do not align with the heart of compassion and reconciliation which Christ demands of his church. We offer our deepest sympathies to the members of the Indigenous communities within our Fellowship of churches, as well as to those beyond. As a part of our acknowledgement of this tragedy, Fellowship Pacific is committed to encouraging and providing resources for the education of our churches and to developing meaningful dialogue with Indigenous leaders within our region so that we can contribute positively to the process of reconciliation and healing. As a regional church body in western Canada we recognize that we have a responsibility to be a part of addressing the issues facing the First Peoples of this region and we encourage churches and agencies within our Fellowship to respond to this tragedy with a posture of listening, learning, and walking with our Indigenous communities."