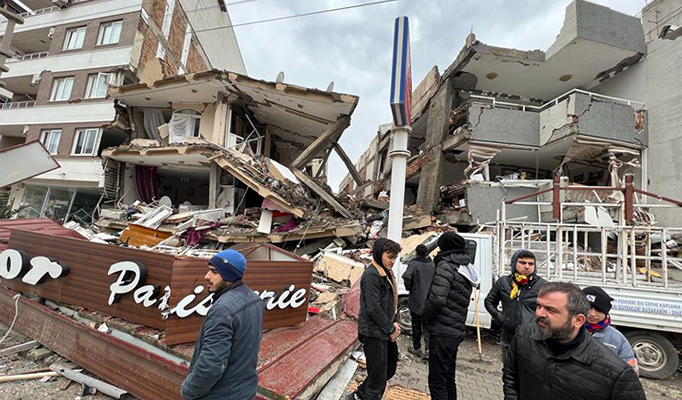 A devastating earthquake struck southeast Turkey on February 6, killing more than 5,000 people. Turkish Christian Fellowship, partnered with Intercede International, has put together a plan to help earthquake survivors in that region.
"An earthquake with a magnitude of 7.8 occurred on February 6 in Kahramanmaras, and was felt strongly in Antakya, İskenderun, A., Gaziantep Gaziantep, Sanliurfa, Diyarbakır and Syria and Lebanon," reports TCF. "It lasted about 90 seconds early in the morning at 4:17 am, and it was terrifying. After the big earthquake, after the aftershocks, we took the children and went downstairs. We learned on social media that a few buildings were destroyed, but as the day progressed the picture started to become clear because there was no telephone communication with other provinces.
"Afterwards, news of heavy damage was given for only three cities. But I called the brother in Iskenderun to see how their situation was. He told us the situation was very bad – that his brother, who was a preacher, and his brother's wife were under the rubble. He said that because there was no rescue team, people saved their relatives by their own means. We, as a church, decided that we should act immediately and be with our brothers, so we went to Alexandria. We were shocked by the sight we saw. Because the buildings collapsed like cardboard and people were taking out the dead bodies of their relatives."
A pastor from the Iskenderun Church and his wife died, leaving two children, aged three and 10 years old. They are connected to TCF.
"We asked our fellow believers what could be done and what they would need," reports TCF. "Our friend replied that the most important were hot soup and bread, water, milk, diapers, and blankets. Local people are unable to enter their homes due to the damage to their buildings, and the estimated death toll is more than 5,000 people – including those in the wreckage.
"In addition, all food and grocery stores are closed, and chaos prevails in the district. The needs I have written to you above are of vital importance. Approximately 250,000 people live in the center of Iskenderun. As soon as we can, we want to meet the needs of our fellow believers and the needs of other victims. Of course, your help is important, and your prayers are very important to us. May the grace and power of the Lord be with us."
Intercede News Service: https://intercedenow.ca/intercede-news-service/