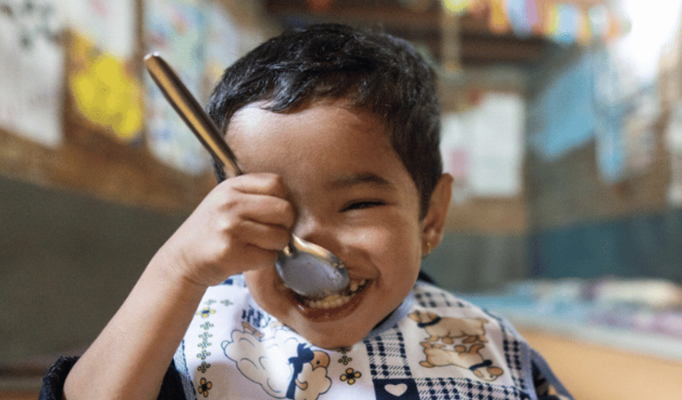 In Cambodia, a chicken farm becomes a source of hope. In the Zambian countryside, a struggling family is trained in goat-rearing. And in a South Sudan farming community, women are given a voice to lead.
These are just a few of the many stories of empowerment and resilience that have come from World Vision Canada programs around the world as child hunger is at its worst levels in generations. While compounding circumstances—from the COVID-19 pandemic and climate change to global conflicts, such as the war in Ukraine—greatly restrict the global production and trade of essential food commodities, the impacts are felt even in Canada.
But while many feel an affordability crisis in more developed nations, for those living in fragile contexts, the circumstances are pushing many into starvation.
"While millions in more privileged regions are well nourished and thriving, the world's most vulnerable, including women and children, are unable to access even basic essential nutrients they need to survive, thrive and live dignified lives," said Michael Messenger, President and CEO, World Vision Canada. "World Vision Canada is working towards ending hunger in the world among the world's most vulnerable children. But we can't do it alone, and need the support of Canadians nationwide to ensure our programs continue to have impact."
It is important to note that World Vision Canada is among Canada's top 10 international impact charities and has earned an A+ and five-star rating from Charity Intelligence, an independent organization that researches Canadian charities so donors can be informed and give intelligently.
For Cheng Pok, a chicken farmer in Cambodia, World Vision enabled her farm to become a central force in the community of Saang, thanks to the help of Canadians who purchase the livestock through World Vision's Gift Catalogue. After her own struggles with poverty, Pok is now a leader of a chicken co-operative and key pilar of the community.
For Zambian goat farmer Eliot Choobwe, the World Vision training he received in 2018 was life-changing. With just five "starter goats," he was able to increase the family income by selling and trading their milk allowing him to expand his herd
In South Sudan, 50-year-old mother of six Severina Philipo and 30-year-old mother of two Mikelina Serezio both received training from a World Vision project called FEED II. Now, they lead a farmers' group composed of dozens of women and men in Yambio County, benefiting the community.
By educating, empowering and equipping people in most fragile countries, , families and entire communities learn the skills and acquire the tools necessary to become self sustaining.
Charitable work you can trust
In the last five years, more than 82 per cent of all donations received by World Vision Canada have gone directly to programs to help children and families.
Give the gift of food fuels childhoods
There are a myriad ways to contribute to helping communities in impoverished regions build better futures.
Canadian donors can help rush power-packed food supplements and rations to malnourished, hungry children and families. Thanks to donations from the World Food Programme, this gift is multiplied seven times in value.
During conflicts and humanitarian and healthcare crises, emergency food becomes essential. World Vision gift packages can be purchased to help support the urgent delivery of emergency food, which is also multiplied seven times in value, creating even greater impact.
Loaded with nutritious foods—staples like grains, beans, oil and more—Family Food Baskets are a great way to fill hungry bellies with the right stuff. To assist even more families, the World Food Programme helps multiply this give seven times over.
World Vision Canada is fueling childhoods in the world's most vulnerable areas with nutritous food to support growth and play in partnership with Canadians nationwide. When you give these gifts this season, you help kids stay kids and enjoy their childhood.
To learn more about World Vision Canada and its life-changing programs, visit Worldvision.ca.