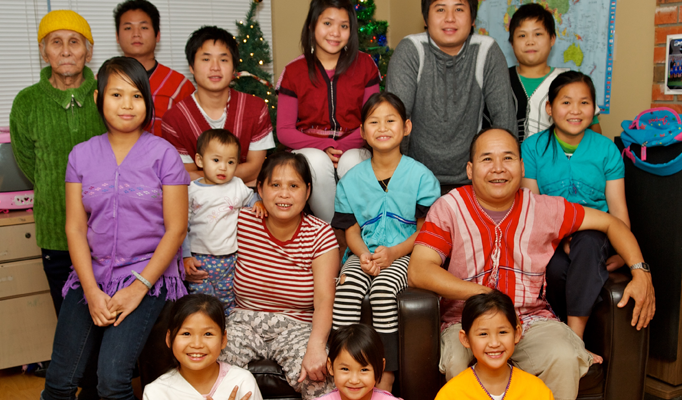 As the plane ascended into the night sky, Saylermoo relaxed into the back of his seat. Finally, he and his family were on the last leg of their journey from Thailand to Canada. His musing was cut short by one of his 12 children asking to be taken to the bathroom. It would be one of many such requests during the long flight.
Saylermoo is one of three children raised in a Christian Karen family in Burma, now known as Myanmar. The Karen are a large ethnic group who make up approximately seven percent of the total Burmese population. Soon after the second world war ended, civil war broke out between the Karen and the Burmese. This bloody civil war caused much internal strife and, like many other Karen, Saylermoo's family moved to neighbouring Thailand.
They moved to a village called Htoo Wah Loo and it was there he met and married his wife, Pokay. Pokay worked in a small sewing factory and Saylermoo piloted a boat on the Salween River taking food and supplies to the Karen soldiers.
While living in Htoo Wah Loo, Saylermoo and Pokay had five children and their life was relatively peaceful. That was until the village was attacked by the Burmese. One moonless night, explosions erupted, and gunfire rang out. The family couldn't make an escape because of the darkness, so they hid under their house and prayed not to be discovered. As soon as the sun was up, they fled for their lives.
Their destination was the Mae Ra Moe refugee camp located on the border of Thailand and Myanmar. It was a very dangerous journey and two of their children were very sick. There was little medicine and food was scarce. Constantly on the move, it was extremely difficult to keep going but Saylermoo vowed that no one would be left behind. "We thought of our children first. They needed to have food and water and we had to make sure that no one in our family was left behind, no matter how sick they were," he says, speaking through an interpreter. A month later, they arrived at the refugee camp. Saylermoo found employment as a river boat driver but this time, his cargo was kindergarten students instead of supplies. Here, he and his wife would have seven more children.
In 2006, Canada opened the door for the Karen people to come to Canada as refugees. After much discussion and prayer, Saylermoo made an application to bring his family to Canada. It was a hard decision, with a lot of uncertainty but the parents wanted the best for their children. "We knew it would be hard, a new language, a new culture and we didn't know what Canada really was. But we wanted what was best and good for our children," he says.
The application included interviews and medical checks to determine the overall health of the applicants. If a family member wasn't well enough to make the journey, they could be refused entry. If this was the case, Saylermoo had already decided that if all his children couldn't come, the family would stay in Mae Ra Moe. "Family is family. We take care of each other and most of all, we love each other. We don't leave each other behind," he explains.
The entire application process took a year and a half and in 2008, Saylermoo and his family left the refugee camp for a home in Canada.
When the family arrived, they were processed and brought to their new home in Langley. Here they were assisted by the local faith community and settlement workers, including Sharon Kavanagh. Kavanagh worked with the family almost from the time they arrived and attributes Saylermoo's leadership and devotion to his family as the reason his family has flourished. "His leadership is evident, and he is engaged with his kids. He's supportive in any way he can be and because of this, his kids have always been willing to take risks and try new things. In my opinion, this is why his family has thrived," she explains.
A close-knit family, Saylermoo's children love and respect him and their mother very much. "My dad is patient, kind, loving and funny. I am so blessed and thankful for him," says 20-year-old Sayk'paw Say. "My dad will always be there for me. I love my dad," adds 12-year-old Pawghesay.
Two years ago, Saylermoo, with the help of his four eldest children, bought a house in Aldergrove. Today, he and his wife have four grandchildren.
Coming to Canada with 12 children, a wife, and an aged father was an epic journey. It's a journey that Saylermoo attributes to the goodness of a loving heavenly Father. "It was all God. He planned it and He made it happen. If it wasn't for God's grace and mercy, my family and I wouldn't be here. I am blessed and very grateful," he says with a smile.