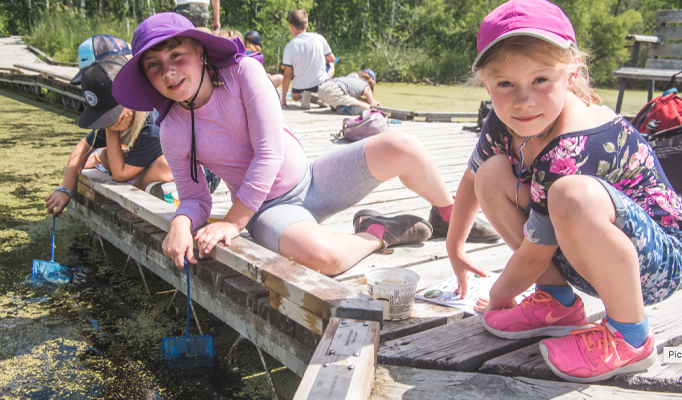 On March 11, 2020, the World Health Organization declared a global pandemic and life as we knew it came to an abrupt halt. People were told to stay home, stores were shuttered, and community programs terminated. Like the rest of the world, A Rocha Canada was forced to adjustas well.
British Columbia
A Rocha is an international Christian environmental stewardship organization caring for the environment, working in conservation, environmental education, and sustainable agriculture. In British Columbia, A Rocha Canada is located on a 27-acre property in South Surrey called Brooksdale.
Normally a large contingent of staff and volunteers work on the property but in March all of this changed. Some staff went on temporary leave and the volunteers stayed home. Leah Kostamo is the Spiritual Care Coordinator, and a co-founder of A Rocha Canada. She describes the early days of the pandemic as being somewhat strange. "It was surreal, but we all remarked on how beautiful the weather was — sunny and warm, which meant we could be outside in the midst of it all. One thing that kept things a bit more normal was all the farming and conservation work that needed to get done," she explained.
Located on the sprawling property are two large homes. In pre-Covid times one home was used to house 15 student interns from around the world. In March, all the interns went home including one young woman from Africa who almost didn't make it out. As countries worldwide began to close their borders she needed to make a decision. Should she return home to her family or stay in Canada to wait out the shutdown? But within 24 hours her parents were able to buy a ticket on one of the last flights leaving for Namibia. While it was fortunate that she was able to leave, it was also bittersweet. "She left early in the morning without the chance to say good bye to most of us. She had saved and dreamed of this internship for several years so to leave so abruptly only half-way through her stay was hugely disappointing for her, but we hope that one day she'll be able to return," said Kostamo.
A Rocha programs are considered essential services, so plans could be made to re-open. During the first two months of the pandemic, a Covid Task Force comprised of various staff and Board member Tamar Koleba was organized. Koleba works for Fraser Health Authority as the Director of Pharmacy Service in the Lower Mainland. Ongoing consultations with Fraser Health and the City of Surrey allowed crops to be planted and Covid compliant day camps to be planned.
The Community Shared Agriculture Program (CSA) grows enough produce to feed an astounding 500 people a week. The program, rather than being negatively impacted by the pandemic, grew instead. In normal times the organization offers 150 shares each spring but this year, the number of shares grew to 260. Kostamo explains the large increase. "Partly it was because we changed how shares worked. We used to offer two sizes but went to one size with the option of getting it every other week. This allowed for more people to participate," she explained. "People were looking for a source of healthy food," she added.
Another A Rocha program focuses on Environmental Education. Every year, spring and summer camps are offered onsite and this year except for cancelling the spring camps it was no different. A Rocha's large acreage with its forests and fields allows participants to be physically distant while enjoying time in nature. This year the overall numbers were lower, but four summer camps quickly sold out. "It could be that families wanted to have a connection with nature and be outside," Kostamo explained.
In May 2020, Interns from Canada were allowed to return. "By summer and fall all our normal programs were running. The interns focused on our core program of conservation science, especially monitoring studies of species at risk as well as habitat enhancement along the Little Campbell River," said Kostamo.
Living together in the "intern house" has always provided an opportunity for the Interns to grow closer but this year, because of the pandemic, they reported having a much deeper experience. Kostamo attributes this to having less interaction with the wider public and much of the A Rocha community. "We couldn't all be inside together as in the past. They also were a younger group (in their late teens and early twenties) so many of them hadn't lived in an intentional community before," she said.
Seniors have always made up a large contingent of A Rocha visitors but this year many were unable to come. In response the staff at A Rocha organized 'virtual' nature walks around the property and also offered online cooking classes. In addition, A Rocha partnered with Seniors Come Share Society to provide delivery of farm-fresh veggies as well accompanying recipe cards for 68 senior household in the area. Both the veggies and the new recipes were a hit and something many of the participants looked forward to in this season of isolation.
Ontario
In fall of 2020, a new nature school program called Nature Academy was launched. Two classes were offered to test out what A Rocha staff thought might be a great program, especially as parents were considering alternatives to indoor school during COVID. When the program filled up in less than 24 hours, organizers knew that Nature Academy was exactly what families were looking for! Through science classes, wilderness and gardening skills, and child-led exploration, students attending Nature Academy spend a day learning how to interact with, and care for, the earth. A Rocha, believes experiences like Nature Academy are foundational to our development as human beings. It is exciting to imagine a world full of people who have grown up caring for the earth. The success of this pilot has prompted the program be rerun in Spring of 2021 to teach kids about creation care.
Manitoba
Tin 2020, A Rocha Manitoba ran four sold-out weeks of outdoor exploration day camps for 86 kids. Partnering with local Winnipeg churches to provide the location for each camp, they were able to reach kids in many different parts of the city. The camps focused on helping children develop their natural sense of wonder and curiosity, while discovering the creation that exists around them all the time.
One child, while tasting a fresh carrot from an urban farm, exclaimed: "This is good! I would have this for dessert!"
Thanks to a grant from The Winnipeg Foundation, subsidies were offered to low-income families to take kids on a field trip to go pond dipping, and have a special owl guest visit on site. There is hope the program can be expanded in 2021 to include a week at the Boreal Ecology Centre in East Braintree, Manitoba.
This year, A Rocha is marking 20 years of work in Canada and Covid style plans are being made. "Because we can't have a huge party during the time of Covid we're hatching some interesting online offerings. Look for special blog posts on our website, (www.arocha.ca) some new A Rocha swag, and an interactive online national gathering sometime in October 2021," said Kostamo in BC. Primarily we want to mark where A Rocha has come from and where it is going but mostly, we want to celebrate 20 years that went incredibly fast," she concluded.