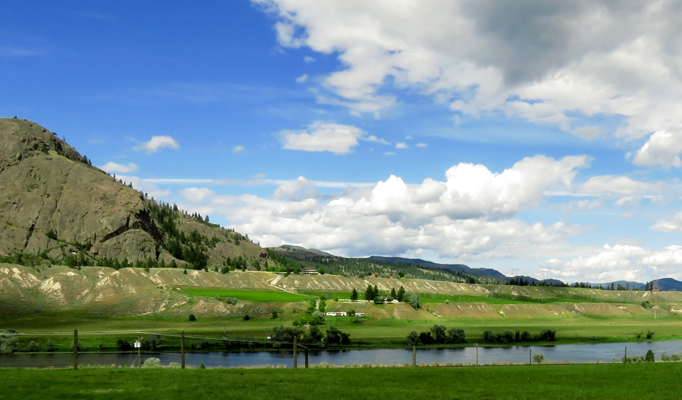 Because of COVID, international travel has come to a screeching halt. Instead, we are encouraged to take a staycation and visit destinations closer to home. We were anxious for a getaway so when travel restrictions were lifted, we made plans for a weekend away. Our destination was Kamloops.
We chose Kamloops for a couple of reasons. We wanted to go somewhere we could spend time outside and that was close to home. Up until two years ago, we considered Kamloops merely as a place to stay enroute to another destination. A hotel clerk's recommendation to explore more of the city led to a short stay the following year. That was when we found there was much more to this desert city than meets the eye.
To prepare for this trip, we took Dr. Bonnie Henry's advice and planned ahead. To do so, I visited the Tourism Kamloops website to get some ideas for a weekend getaway and to know if the city was ready for guests. Director of Industry Relations and Communications, Monica Dickinson, assured me that it was. "Our tourism partners have undertaken necessary procedures and protocols to safely welcome visitors back to Kamloops. The health and wellbeing of our city, residents and visitors are our top priorities. Kamloops boasts wide open spaces and offers less crowded experiences lending to a safe, accessible and memorable getaway option," she said.
We arrived early Friday afternoon and after checking into our hotel we went for a stroll in Riverside Park. Riverside Park is a beautiful and spacious downtown park where couples and families can easily spend the whole day. A large adjacent parking lot offering free parking makes it very convenient to visit both the park and the city centre.
On Saturday morning we visited the Farmer's Market. This market was one of the largest we've ever seen, and the stalls were packed with homemade jams, fresh fruit and vegetables, and wines from local wineries. Covid 19 protocols were in place and at the entrance to the market, an attendant offered hand sanitizer while limiting the number of people who could enter. Signs requesting that visitors shop and not socialize was a reminder of the ongoing pandemic.
Last year we discovered the BC Wildlife Park and planned a return visit. This park is very family-friendly, and is the only wildlife rehabilitation organization in the Thompson-Okanagan region. It has an 18,000 square foot Discovery Centre and features interactive displays. The outdoor enclosures closely reflect the animal's natural environment and during our visit we saw elk, mountain sheep and even a Kermode or Spirit bear. Best of all the cost of admission goes to the care and feeding of these animals that, due to their injuries or circumstances, cannot be reintroduced into the wild. We were happy to see that the park was again open and was very busy. Signage reminded visitors to practice social distancing and there was lots of hand sanitizer available.
On our way back to town we took the East Shuswap Road which runs parallel to the freeway. This is a very scenic drive where you can see something called Hoodoos. Hoodoos are rock formations found primarily in desert areas. Formed millions of years ago, these towering spires are made of sandstone that form mystical shapes. They truly are an awesome sight to behold.
A recommended spot for lunch was the Monte Creek Ranch Winery. Reservations are highly recommended for The Terrace Restaurant because of limited seating. But we decided to social distance and take advantage of a very nice feature offered by the winery. Throughout the property are shaded tables where you can have a picnic. Choose anything off the restaurant's menu and find a seat and your meal will be delivered to you. If you would like wine, you can pick up a chilled bottle in the winery and have it with your picnic.
Known mostly for hosting sporting events, Kamloops does have a dynamic arts scene. Home to two art galleries, three museums, and venues for the performing arts there's lots to enjoy. We opted to visit the Back-Alley Art Gallery. Spread out over four blocks between Seymour and Victoria streets this outdoor gallery includes a collection of 37 murals that depict past and present Kamloops. Others are guaranteed to take you away on the artist's flight of fancy.
Downtown Kamloops is also home to an eclectic dining scene with many of its restaurants located on Victoria Street. We chose the Brownstone Restaurant and were delighted with our choice. We were seated on the patio and enjoyed our meals from a secluded table. Our meals were beautifully presented and from the first mouthful it was evident that they were prepared using fresh and locally sourced ingredients. Every bite from start to finish was incredibly delicious.
The pandemic has made it impossible to travel to international destinations and for now we have to stay close to home. But sitting on the Brownstone's beautifully treed patio while watching the world go by, we could have been in any tourist destination around the world and this is just one reason why Kamloops is the perfect place for a staycation.