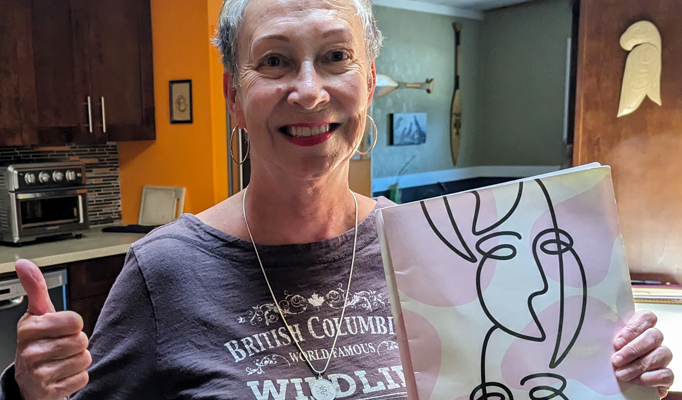 After a terrific vacation in Atlantic Canada, I carefully placed my pink and white folder containing travel receipts, special mementos, and our now lost passports into the airplane seat back in front of me. I made a mental note to remember to take the folder when we touched down. I guess I should have made a real note because it wasn't until we were halfway home did I realize that I didn't have the folder; I had left it on the plane. After calling myself every known word for idiot, as soon as I got home, I started working on retrieving the folder. After all, only a few hours had transpired, so there could be a good chance of the airline finding it when the cleaning staff refreshed the plane.
I looked for a phone number to contact the airline's Lost and Found department only to find there wasn't one, instead a form must be submitted online. The airline's FAQ's state that all passports would be turned into the closest Canadian Border Services Agency (CBSA) or Airport Security at the airport in which they were found.
Without the ability to speak to a real person, this quickly was becoming a very frustrating experience. Included in my folder were other items which, while not essential, were still important to me. But the Lost and Found portal will not allow you to proceed if you declare your passports missing. Instead, a Pop Up declares that ALL passports WILL be turned in to CBSA. In my situation this wasn't the case.
I decided to try something else. This time at the drop-down menu I selected 'unique item not listed'. From there, I was able to provide a full description. I listed the colour and style of the folder, the flight number, my seat number, the record locator number, the date, and time we touched down at YVR, and the exact location where my folder could be found.
Once I completed the form, I was given a Lost Report ID number and because I wanted to exhaust all possible options, I searched for a contact number for CBSA as well. I reasoned that someone might have found my folder and turned it in. YVR's website has a Customer Care portal so I described my dilemma and within minutes, I received a reply directing me to CBSA and giving me a phone number! Progress!
When I called, I was told they were not concerned with lost Canadian passports, only International ones. But the agent said he'd have a look. Back on the line he told me that no, there were no passports turned in, but I was welcome to call back later. He also told me that I should make a report to the RCMP, to avoid being victims of identity theft. I contacted the RCMP and was told that, again, there was no concern in the case of a Canadian passport, but I should contact Passport Canada for instructions.
Passports Canada advised me that because our passports were no longer in our possession they must be cancelled. I would need to complete the appropriate documentation and apply for a new passport. By email I was sent a PPTC 203 (Declaration concerning a lost, stolen, inaccessible, damaged or Found Passport) and a Simplified Renewal Passport application.
I filled in the first form with my tale of woe and worked on the passport renewal document. I called Service Canada to make an appointment and was surprised to learn that there were no appointments for at least three weeks.
Meanwhile, I received an email from the airline asking for more information about my lost item. There wasn't much more that I could tell them because after all I had given all the information I could so after a third request, I wrote: "If this is being read by a real human and not an Artificial Intelligence Bot, you will know that I have told you exactly where my folder is, but again I gave them my information.
It must have been a real human because lo and behold, I received notification that my folder had been found and I could pick it up at the airport or for a fee, it would be delivered.
The next day, I received my package. I opened it to find everything intact including the passports. But because they had been cancelled, I needed to amend the PPTC 203 to reflect this new development.
We went to Service Canada and saw a long line up at the entrance. Luckily, we had an appointment because those who didn't faced a wait of more than four hours.
The Service Canada agent reviewed our documents she noted with surprise our passports. "Why have you filled in the PPTC 203 when you still are in possession of your passports?" she asked. I related the whole sad story. She said that she would add an explanation to our documentation. "Your passports should arrive by registered mail by September 8th," she said.
I hope she's right because all the websites advise you not to book travel unless you have your passports in hand. But here's the thing, last spring I planned and booked the trip of a lifetime to Europe at the end of this month. Details that don't bother me during the day loom large at 2 am so lately instead of being blissfully asleep, I am counting the days for our new passports to arrive. 'I have a feeling that I will have a few more sleepless nights before they arrive.