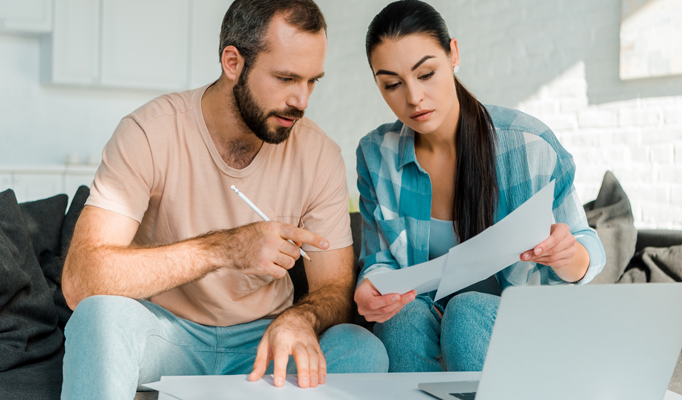 Do you remember that movie from the '90s, Groundhog Day? It's the one where Bill Murray was stuck in a time loop, waking up every day being forced to re-live the same day over and over and over again. Do you feel like that sometimes? Like you are stuck – emotionally, spiritually, financially?
February 2 is officially Groundhog Day – thirty-three days into the New Year. Christmas was fun – but the bills arrived in the mail last month. New Year's resolutions were made – most (or all) have already been broken.
Wait! Isn't this the same as last year? And the year before that? How do we break out of this loop? Where do we go from here? Well, let's start with this: don't let the fear of doing something poorly stop you from doing it altogether.
Someone once said something to me that I thought was the dumbest thing I ever heard. He said, "Anything worth doing, is worth doing poorly." Having had the adage "Anything worth doing is worth doing well" ingrained in my mind since childhood, I just could not see the value in those other words. In fact, they embodied the exact opposite of what I believed to be true, so I kind of wrote them off.
Fast-forward a few years and I began to see how, in some cases, doing things poorly could be a first step to doing them well. Sometimes it's just too hard to do something well, especially right off. Sometimes we just need to take a baby step and learn along the way. Or sometimes the "doing it well" part prevents us from doing it altogether.
Let me give you a few personal examples. Generally, as a child, I was reasonably athletic. The one game I did not play was baseball. I had tried, but for some reason, I just had difficulty hitting that ball with the bat. I was only a child, but the fear of doing something poorly caused me to quit too early and robbed me of the joy of working hard and learning a new sport.
Years later, as a teenager, I struggled learning to ski. I still remember being among the bottom 2 or 3 people in my group. I really didn't like that feeling, but by then I had learned that sometimes you had to struggle through (doing things poorly) until you learned to do them well. By the end of the 6 weeks of lessons, I was indeed a reasonably good skier and, in fact, approaching the top of my class… because I was willing to do the thing poorly, in order to learn to do it well.
Are you stuck in some part of your life? Try some baby steps. Get unstuck by doing something different. I know that's so much easier to say than it is to do. Odds are you will do it poorly, at first. But over time (hopefully) you will learn to do it well. The key is to get up and start.
Can't tithe? You should tithe. A tithe is 10 per cent, but maybe that's just too hard for you to fathom right now. OK – at least start with something. Break the cycle – start giving something. Anything. Maybe it's not enough, but better to do it poorly than not at all. Then, work your way up to the 10 per cent.
Already giving something, but not a tithe? Then this maybe is the year to get up to where you should be. Maybe now you are ready to do it well.
Can't save what you should? Start with something. Get help to figure out how much you should save, and just start. Make it automatic. Have it taken from your bank account each month, even if you only start with a tiny amount. Sure, maybe it's not enough. Maybe you won't be able to retire until you are 75 at that rate, but something is better than nothing. Poorly is better than nothing at all. Learn to save. Strengthen your saving muscles. You can get better at saving in just the same way that you can get better at anything else. Learning to do it well doesn't mean that you can't start poorly. In fact, maybe you need to learn by starting poorly.
This applies as much to other areas of life as it does to finances. Your relationships, your health, your spirituality – they all take work. They all require learning. If you are stuck in a rut, ask God for help. David wrote in Psalm 40, "He brought me up out of the pit. Out of the mire and clay. He …made my footsteps firm" (U2 version). Begin by asking Him to do that for you. To help you get un-stuck.
Just don't expect smooth sailing. Don't expect that it will be easy. It's likely it will be a struggle. Look at how hard a baby struggles to walk well, and how long it takes for them to learn to walk without falling. It's likely that at least in the beginning of something new, you will do it poorly and that you too will have to learn to do it well – whatever it is – and that will take time.
But in the meantime, if it's worth doing, it's worth doing poorly.
"Not only that, but we rejoice in our sufferings, knowing that suffering produces endurance, and endurance produces character, and character produces hope…"
– Romans 5:3-4 (ESV)

Arnold Machel, CFP® lives, works and worships in the White Rock/South Surrey area where he attends Gracepoint Community Church.  He is a Certified Financial Planner with IPC Investment Corporation and Visionvest Financial Planning & Services.  Questions and comments can be directed to him at dr.rrsp@visionvest.ca or through his website at www.visionvest.ca.  Please note that all comments are of a general nature and should not be relied upon as individual advice.  The views and opinions expressed in this commentary are those of Arnold Machel and may not necessarily reflect those of IPC Investment Corporation.   While every attempt is made to ensure accuracy, facts and figures are not guaranteed.
Arnold is now accepting a limited number of invitations to speak for the 2020 calendar year.  If you are interested in having him speak to your congregation or other group regarding tithing and money matters, please contact us at admin@visionvest.ca or (604) 542-2818 with your preferred date and time.