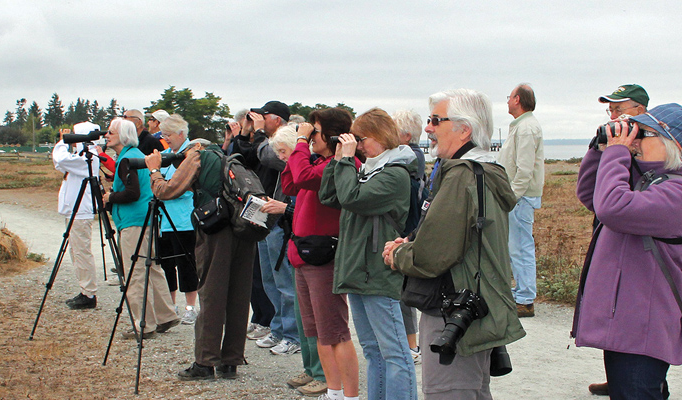 Prior to the turn of the 20th century, on Christmas Day, hunters were known to engage in a rather barbaric tradition called a Christmas 'Side Hunt'. Early in the morning, groups of hunters would choose sides, take to the fields and forests and shoot everything in sight. The side that returned with the largest pile of feathers or fur, won the 'contest'.
The Conservation movement was in its infancy, but scientists and observers were noting, with alarm, a decline in the number and species of birds. In 1900, to determine if this was a trend, ornithologist, Frank M. Chapman, suggested a new Christmas tradition. Instead of hunting birds, people would count the birds instead.
That year, because of the enthusiasm of Chapman and twenty-seven dedicated birders, there were twenty-five Christmas Bird Counts held. From Toronto, Ontario to Pacific Grove, California and many places in-between, the original 27 Christmas Bird Counters tallied over 90 species!
Today, 120 years later, Christmas Bird Counts take place in over 2,000 localities throughout the Western Hemisphere. Each Christmas Bird Count is conducted on a single day between December 14 and January 5 and is organized by a birding club or naturalist organization. Each location covers 24 square kilometers.
The information collected by thousands of volunteers forms one of the world's largest sets of wildlife survey data. These data, collected by observers over the past century, allow Researchers, Conservation Biologists and other individuals to study the long-term health and status of bird populations across North and South America. It is considered extremely important to Conservation efforts.
In Canada, in cooperation with the National Audubon Society, Birds Canada (up until recently known as Bird Studies Canada) manages the Christmas Bird Count (CBC). Yousif Attia is the Canadian CBC Coordinator. "Local clubs help organize participants, advertise in local media and arrange for venues for 'after count' wrap-ups in their jurisdictions," he explains. "Every circle has at least one and sometimes two or three volunteer compilers," he adds.
There are seven count circles in the Lower Mainland and sites, dates and other information can be found on the Birds Canada website at www.birdscanada.org/volunteer/cbc/index.jsp.
Participating in the Christmas Bird Count is a means of contributing to Citizen Science. Citizen Science is the practice of public participation to increase scientific knowledge. In the past, when professional scientists wanted to gather information, they enlisted the help of pre-existing networks of birders, amateur weather forecasters and various other groups. While individuals who volunteer to collect survey data are considered Citizen Scientists, it is not essential for a person to be an expert. They need only have an appreciation of nature and a desire to help with conservation efforts. "If you like birds and getting outside, give it a try! Don't be intimidated by not knowing how to identify bird species here during the winter – you may already know them all – and more experienced birders will be there to guide you. Everyone is welcome from complete beginners to the most seasoned pros," says Attia.
Taking part in the Christmas Bird Count is not limited to adults. Children are encouraged to get involved as well. In 2007, with the goal of connecting children to nature, two birders, Tom Rusert and Darren Peterie, founded the Christmas Bird Count for Kids or CBC4kids' in Sonoma California. The event quickly spread from Alaska to Florida and this year marks ten years since the first CBC4Kids events were held in Canada. Youth are shown how to identify local birdlife and use binoculars. Following many of the counts, the young Citizen Scientists enjoy a social time to share their observations over a cup of hot cocoa. Nationally, there are events specifically for children. Consult the Birds Canada website at www.birdscanada.org for more information.
In addition, to participate in the count, you need not go out into the field. People can also take part from their homes by observing the birds that visit their feeders and report their count to Gareth Pugh, a local compiler. If they are unsure about identifying various bird species, they can contact Pugh and a team member can be sent to visit their feeder. "This part of the Count is especially important as large numbers of birds can always be found where there are feeders, and rare species often show up at feeders," says Pugh.
If you already have feeders or plan on setting them up, you may want to consider contributing to another Citizen Science program. Project FeederWatch runs from November through April each year. Watching your feeders a few minutes every few weeks is all that's needed. For more information visit, www.birdscanada.org/feederwatch.
Get involved in a Christmas Bird Count. It's fun, a great way to spend some time outdoors and you will be giving a Christmas gift to God's gift of nature. To participate, contact Gareth Pugh at gareth@intergate.ca, call 604-576-6831 or 604-649-1027.