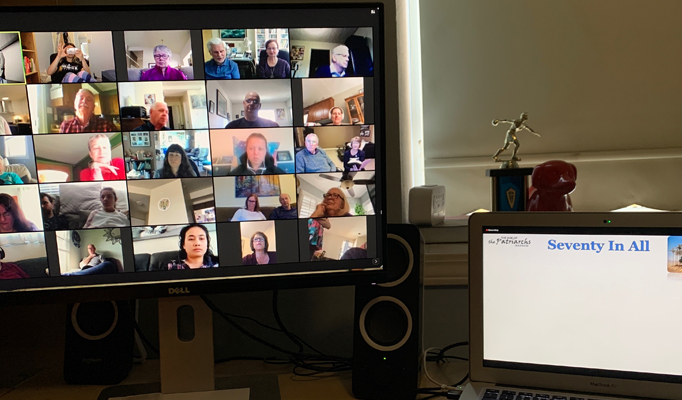 To say that the Coronavirus has changed the world would be an understatement. In the last 100 years, the world has not seen a global Pandemic. This is a disaster of unimaginable proportions, but it has not robbed us of our ability to communicate with each other.
COVID-19 has changed the way we 'do church'. With the closure of church buildings, and even with the loosening of restrictions, obstacles to meeting together in larger numbers remain. In order to cope with COVID pastors and church leaders have had to devise ways to keep connected with their flocks. Digital platforms like Zoom, video chat, online streaming, and YouTube are ways that churches continue with church services and remain in touch with their congregations.
For many church leaders, this has meant a deeper dive into technology. Heritage Alliance Church in Abbotsford uses a combination of Zoom for their small groups, and online streaming for weekly church services. "We had not filmed our services previously, so it was a quick scramble to get up and running. It required a very quick revamp of our whole website to facilitate ease of connection," says Senior Pastor, Tim McIntosh. "Online church services have been a lifeline and have provided a way for people to still feel connected. In fact, we have made an ongoing commitment to online church, realizing that it will be quite a while before we can all meet together again," he adds.
Rather than using online streaming, All Saints Community Church in White Rock has opted for pre-recorded services on YouTube instead. To keep connected, the church uses Zoom meetings for a weekly meet-and-greet and for prayer meetings. "We have a weekly Zoom Coffee Shop where folks can visit and chat, and a weekly prayer meeting called PUSH Prayer. (Pray Until Something Happens)," says Peter Klenner, the church's Pastor.
Centre Street Church in Calgary is using a broad spectrum of digital platforms for all of its functions and plans to offer Alpha Online. "We've had an amazing response: to date, we've had 180 guests sign up for Alpha Online, and to accommodate everyone on Zoom, we've launched three Alpha Online courses this last week! I think we'll be offering Alpha Online for a long time to come," says Craig Murray, Centre Street's South Campus Pastor.
Prior to the pandemic, Home Church Langley met at Nicomekl School. This church has opted to use Zoom exclusively. For example, church services are held via Zoom and the church's small groups use the platform as well. "We're a relationally-driven church and so we needed the personal touch," says Pastor Jim Moerman. "Our prayer meetings changed from monthly to weekly and we also decided to try holding two services on Sunday instead of one. This type of "experiment" just wasn't possible in our setting at Nicomekl School, so it's been interesting to try it now", he explains.
Crossroads Church in Red Deer is using a full range of digital technology to bring the church to the people. "We broadcast three Sunday services on our website via Livestream, and through Facebook. Each service has live-chat features and our website has a place to submit a prayer request. From there a prayer team member will contact that person to pray with them," said Dwayne Holland, Crossroads Church's Communications Director.
Church leaders recognize that not everyone in their congregation are computer-savvy so contingency plans were needed so that no one would be forgotten. "We've mobilized a team of phone-callers who are phoning through our church directory once every two weeks simply to keep in touch with people," said Heritage Alliance's pastor, Tim McIntosh.
Calvary Community Church in Edmonton also uses the telephone to keep in touch with its seniors and those without computers. "If the seniors are in a small group, they receive a weekly call from their small group leader. If not, they receive a phone call from one of a number of people who have agreed to call people in our congregation weekly," explains Pastor Bev Sesink, Calvary Community Church's Associate Pastor.
White Rock's All Saints Community Church uses the telephone as well. Pastor Klenner explains. "We are an 'organic' and caring community. As a result, we all keep in touch with our community: phone calls, and emails. We even do drive-by visits," he says.
Besides using the telephone to keep in touch with congregants, Crossroads Church has also purchased airtime on a local radio station. "A number of our seniors were not able to access the online sermons, so we bought airtime on Shine FM 90.5 here in Red Deer and now we broadcast our Sunday morning message at 9 am on the radio," Holland says.
Canada's provinces are starting to open up, but it will be quite some time before live church services can resume in full. For now, churches must continue to use digital technology. Because many churches fall into the category of 'large gatherings', it could be early 2021 before congregations can worship together again so contingency plans are in place for the long haul. "Post COVID we will continue our new online efforts to reach those who don't want to rush back to be in a church with lots of people. We will continue to produce a lot more video content for our website and social media efforts to not only inform and connect our church family but to also reach the community at large," says Crossroads Church Pastor Holland.
Church buildings may be closed for now, but with current communication technology, churches are remaining alive and vibrant.