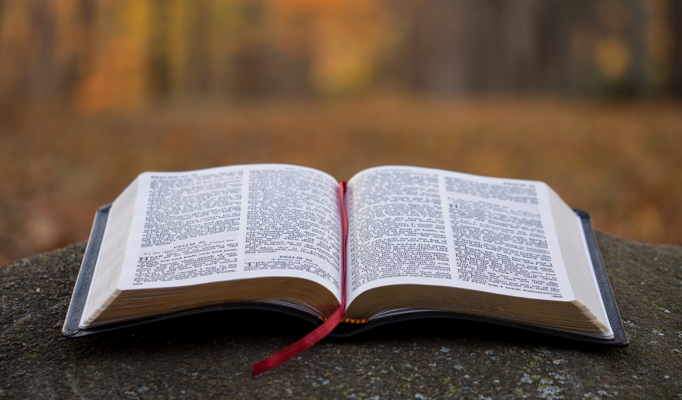 ESV
The English Standard Version (ESV) is essentially a literal translation of the Bible in contemprary English. Created by a team of more than 100 leading evangelical scholars and pastors, the ESV Bible emphasizes word-for-word accuracy, literary excellence, and depth of meaning.
The ESV Study Bible ranks at the top of the list of the most comprehensive study Bibles ever published. It features a wide array of study tools equivalent to a 20-volume Bible resource library, making it an invaluable resource for serious readers, students, and teachers of God's Word.It was created by an outstanding team of 95 leading Bible scholars and teachers from 9 countries, nearly 20 denominations, and 50 seminaries, colleges, and universities.
The top-selling ESV Thinline Bible is ideal for use at home and on-the-go. At one inch thick and available in multiple designs, there is a perfect ESV Thinline Bible for everyone.
Over 2 million readers around the world have had their spiritual lives enriched and their understanding of God's Word expanded by The MacArthur Study Bible. Drawing on more than fifty years of dedicated pastoral and scholarly work, Dr. John MacArthur's verse-by-verse study notes, book introductions, and articles display an unparalleled commitment to interpretive precision – with the goal of making God known through His Word.



NIV
The New International Version (NIV) is a completely original translation of the Bible developed by more than one hundred scholars working from the best available Hebrew, Aramaic, and Greek texts. The initial vision for the project was provided by a single individual – an engineer working with General Electric in Seattle by the name of Howard Long. Long was a lifelong devotee of the King James Version, but when he shared it with his friends he was distressed to find that it just didn't connect. Long saw the need for a translation that captured the truths he loved in the language that his contemporaries spoke.


NIV Study Bible
Set in Zondervan's exclusive NIV Comfort Print® typeface, this stunning, full-color study Bible answers your pressing questions with just the right amount of information, placed in just the right location. Over 21,000 bottom-of-the-page study notes, with icons to make important information easy to spot, a concordance, in-text maps, charts, diagrams, and illustrations, the NIV Study Bible embodies the mission of the NIV translation to be an accurate,
readable, and clear guide into Scripture. Words of Jesus in red.


Rooted: The NIV Bible for Men
A Bible for men that's focused on Godly character and faithful living.


Flourish: The NIV Bible for Women
Becoming who you are in Christ through your relationship with Him.


NIV Life Application Study Bible
Discover how you can apply the Bible to your life today



NASB
The New American Standard Bible (NASB) translation was created by The Lockman Foundation. It is especially faithful to the original Hewbrew, Aramaic, and Greek texts and uses a word-for-word instad of a thought-for-thought translation method. We believe this approach respects the original Author and allows readers to make more interpretive decisions on their own.


NASB New Inductive Study Bible
Every feature of the New Inductive Study Bible is designed to help you gain a more intimate understanding of God and His Word. You'll be guided through the inductive study approach with the help of tools and questions that will enable you to make the most of the spiritual riches offered in Scripture with a guide to completing the steps of observation, interpretation, and application.


NASB, Super Giant Print Reference Bible
Featuring an extra-large print size, this reference Bible gives you a clear and easy reading experience of the translation celebrated for faithfulness to the original biblical languages.


NASB, The Grace and Truth Bible
Without truth, we will be subject to every wind of distraction. Without grace, our lives will ring hollow. The Grace and Truth Study Bible is designed to help you understand and be formed by Scripture. Rich passage-by-passage study notes are theologically sound, guiding you to a deep understanding of each text, while always keeping in view the transformative affirmation and goodness of God's nature and redemptive plan.




NLT
The New Living Translation (NLT) combines the latest biblical scholarship with a clear, dynamic writing style that communicates God's Word powerfully to all who hear and read it. It renders the message of the original texts of Scripture into clear, contemporary English that was written to be read aloud. With a focus on clarity, The New Living Translation invites readers to go deeper into the bible text to discover God's Story for their lives and the world.The Filament app that is on most NLT Bibles is a very useful tool where you simply scan the page number with your phone and it takes you to basic study notes.



NLT Personal Size Giant Print Bible
Filament Enabled – Readable text and an attractive layout in an easy-to-carry size. And while it has the same low price as basic text-only Bibles, the NLT Personal Size Giant Print Bible offers much more. It not only features a bold new design and the trusted and much-loved New Living Translation (NLT) but also includes the groundbreaking Filament Bible app.



NLT Student Life Application Study Bible 
Filament-Enabled Edition. The visually engaging NLT Student Life Application Study Bible brings learning to life for those who want to get serious about their study of Scripture. It invites readers into an ever-deeper knowledge of God and his work in the world.