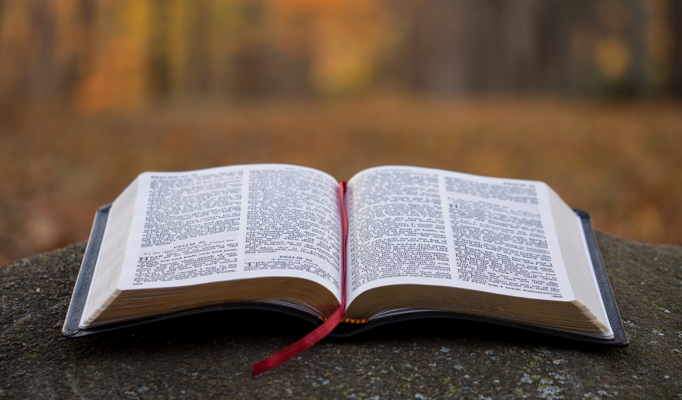 With the help of the House of James Christian bookstore in Abbotsford we explore the various popular translations of Scripture, and highlight various choices within each translation
CSB
The Christian Standard Bible (CSB) provides a highly accurate text for sermon preparation and serious study, translated from the biblical languages by scholars who love God's Word. The CSB was created using Optimal Equivalence, a translation philosophy that balances linguistic precision to the original languages and readability in contemporary English. In the many places throughout Scripture where a word-for-word rendering is clearly inderstandable, a literal translation is used. When a word-for-word rendering might obsure the meaning for a modern audience, a more dynamic translation is used
CSB He Reads Truth Bible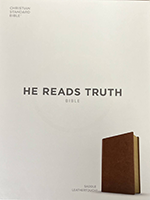 B&H Publishing Group
The mission of He Reads Truth is "Men in the Word of God every day." To that end, the He Reads Truth Bible is, first and foremost, designed for reading. Each letterform and line of text has been carefully crafted to help you forget about the ink on the page and fall into the story of Scripture.
In addition to beautiful Bible text, you'll discover more than 150 key charts, timelines, maps, and infographics that carefully organize biblical truths to highlight connections often missed while reading. And because Scripture itself is the best interpreter of Scripture, the reading plans for each book include relevant supplemental passages from other parts of God's Word.
CSB She Reads Truth Bible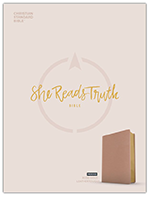 B&H Publishing Group
Since 2012, the global She Reads Truth community has been opening their Bibles together every day with the desire to know God and His Word. Born out of this same mission, the She Reads Truth Bible seeks to help you read and understand Scripture for yourself. Featuring gospel-centered devotionals, and curated Bible reading plans that include supplemental passages for deeper understanding, this Bible invites every woman to count herself among the She Reads Truth community of "Women in the Word of God every day."
KJV
In 1604, soon after James' coronation as king of England, a conference of churchmen requested that the English Bible be revised because existing translations "were corrupt and not answerable to the truth of the original." The King James Version (KJV) had a marked influence on English literary style and was generally accepted as the standard English Bible from the mid-17th to the early 20th century.
KJV Family Bible Faux Leather Padded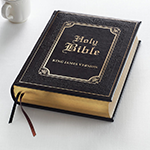 This magnificent, heirloom-quality Dark Brown Faux Leather Hardcover King James Version Family Bible will become a beloved keepsake to be passed down from generation to generation. The beloved 1769 Classic King James text is printed in deep black on heavyweight paper in a large font.
KJV Large Print Thinline Bible, Filament-Enabled Edition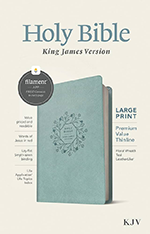 Tyndale House
The new KJV Large Print Thinline Bible, Filament-Enabled Edition has comfortably readable text, an attractive layout, and an affordable price in a thin and easy-to-carry size. And while it has the same low price as basic text Bibles, the KJV Large Print Premium Value Thinline offers much more. It not only features a beautiful new design but also includes the groundbreaking Filament Bible app. This app enables you to use your mobile phone or tablet to connect every page to a vast array of related content, including study notes, devotionals, interactive maps, informative videos, and worship music.
The Filament Bible app turns this Bible into a powerful study and devotional experience, offering more to expand your mind and touch your heart than you can possibly hold in your hand.
NKJV
In 1975, Thomas Nelson Publishers commissioned 130 of the most esteemed Bible scholars, church leaders, and lay Christians to produce an entirely new, modern translation of Scripture. Their goal was to retain the purity and stylistic beauty of the original King James Version while incorporating a modern, more up-to-date language. Using a literal method of translation, those who worked on the project held to an uncompromising faithfulness to the original Greek, Hebrew, and Aramaic texts, as they employed the most recent research in linguistics, textual studies, and archaeology.
NKJV Study Bible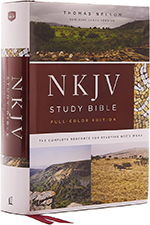 Thomas Nelson
The full text of the trustworthy New King James Version with robust study notes, vibrant full-color images, and dozens of study resources to help you grow deeper in your faith.
With more than 2 million copies sold, it's no secret that The New King James Study Bible, Full Color Edition is a reliable guide for your journey into God's Word. This beautiful full-color Bible provides a complete resource for study, including over 1 million words of custom content contributed by top evangelical scholars. Over 1,000 articles, notes, word studies, photos, illustrations, maps, and other tools, combined with the accuracy and clarity of the New King James Version, make this Bible a perfect choice to help you deeply engage and understand Scripture.
Kids
NIV, Adventure Bible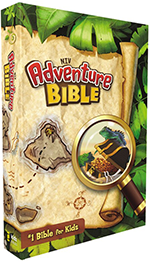 Zonderkidz
Take your young explorer on an adventure through God's Word with the #1 Bible for kids!
The bestselling NIV Adventure Bible® will get kids excited about reading the Scriptures! Your kids will be captivated with the full-colour features that make it fun and engaging to read the Bible and memorize their favorite verses. Along the way they will learn all kinds of things about the Bible. Most importantly, they will grow closer in their relationship with God.
The Adventure Bible brand has impacted more than 10 million individuals and families to date!
ESV Holy Bible for Kids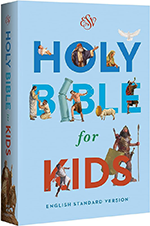 Crossway
Interspersed throughout are twenty-four pages of illustrations depicting major scenes in the story of redemption. With kid-friendly maps in the back, this Bible is one that young children will love to call their own.
CSB Explorer Bible for Kids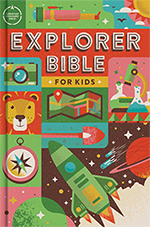 B&H Publishing Group
The CSB Explorer Bible for Kids helps kids place God's Word in the middle of God's world. Within its engaging, full-colour pages, kids will interact with the people, places, and things of the Bible and God's creation. Fascinating images, illustrations, timelines, and study helps show archeological evidence, introduce key characters, explain new concepts, and help kids experience the wonder and truth of the Bible. QR codes placed throughout the Bible bring educational videos, discussion questions, and activity pages to life, helping kids apply key truths of the Bible to real world experiences.