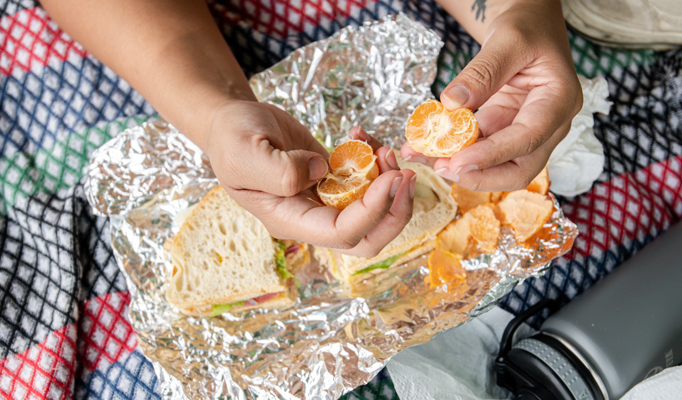 We are living in difficult times. At its most basic, managing finances is creating a balance between expenses and income. However, when money going out starts to exceed the funds coming in, that's when we have to go back to the drawing board and re-evaluate what we can actually afford.
Last month I shared four lessons that I learned early on in life that helped me get through a financially difficult time.
1. "If it is to be, it's up to me"; take responsibility.
2. Focus on the long term.
3. Think outside the box.
4. Get perspective; be grateful.
Of these four lessons, practicing gratitude is the only one that will do anything positive in the short term, and it's more about changing your attitude than fixing the problem. Understanding that we have much to be grateful for can help us get out of our own way and move forward. It's an important piece of the puzzle, but attitude alone won't improve a person's situation—just their outlook.
So, using the other three lessons, here are some practical ideas for someone struggling financially. They won't be applicable to everyone, and it is certainly not a comprehensive list, but read through them and see if any tips apply directly to you. Or, at the very least, trigger an idea for something that might work for you.
Cutting expenses
List every expense that you have (even the $1 expenses), prioritize their importance, and ruthlessly cut out what you don't need. Especially consider these common items:
Scrap the data package. With so many free Wi-Fi hotspots, there is no need for a data plan on a phone unless you need it for security purposes.
Consider a pay-as-you-go phone plan rather than a monthly one.
Watch the subscriptions. Ditch expensive cable TV plans and streaming services. There are many free and legal options out there, including your local library.
Avoid or minimize restaurant meals. It's typically cheaper to make your own meals at home.
Brown bag it to work. You probably have a lunch bag that's been hiding in the back of your cupboard just waiting to be used…
Consider the latte factor. If you get a basic Grande Latte at Starbucks at $5.20 (after tax) every day, that amounts to $1,891 per year. If you are in a 20% tax bracket, that means you need to earn $2,363.75 before taxes to get that money for your daily latte. And that's not even considering CPP and EI deductions.
Downsize the car or consider carpooling to save cash. Or scrap the car altogether and take transit instead.
Move to a cheaper place that has a smaller floorplan, is farther away from the city, or needs some TLC. This applies to both owning and renting.
If you have debts, negotiate with your debtors. There are services that will do this for you, but do your research beforehand – some are just in it for a quick buck from desperate people. If you have massive debts that you can't afford, consider declaring bankruptcy. Obviously, this should be the last of last resorts, but don't rule it out as an option. If it's really that bad, don't let stubbornness prevent you from starting fresh.
Increasing income
Get a second job, or even a third one. With the gig economy and companies like Uber, this is easier than ever.
Ask for a raise. You'll never know if you don't ask.
Turn a hobby into a side hustle. Etsy is a great place to put your passion projects up for sale.
Rent out a spare room or put it up on Airbnb.
Sell unused items on Craigslist or Facebook Marketplace.
Again, all these suggestions won't apply to everyone and don't cover every avenue of cutting costs or increasing revenue. Rather than a comprehensive guide, consider this a brainstorming list for you to get ideas from and maybe use as a starting point.
A note about tithing
Someone asked me whether they should still tithe while struggling financially. Sadly, this can become a religious sticking point for some.
Tithing should be a very high priority, especially when it's not easy. Needing to sacrifice in order to tithe is an even greater reason to do so.
Some Christian advisors would adamantly say that one should tithe and trust God under any and all circumstances. I believe life is more nuanced than that. A zealot-like adherence to a religious rule that could cause a temporary difficulty to lead to something disastrous is not what I believe Jesus would want.
If a tithe doesn't happen because one is paying for a cable package, a fancy new cell phone, or better cuts of meat, then I would agree that the priorities are probably off a bit. But if paying your tithe this month means you can't afford rent and your family will be kicked to the curb, then I would say skip the tithe, but find ways to cut costs or increase income for next month.
To clarify, tithing should be a very high priority, but not to the point of religious zealotry.
If you are struggling, my hope and prayer for you is that during this time you are able to sustain yourself and your family and that sooner rather than later you find a way to a better financial situation. Additionally, I hope that you grow in wisdom and your relationship with Christ and find peace. I hope that this article helps in some small measure. Please feel free to reach out if I can be of help.
"Keep your life free from the love of money, and be content with what you have…"

Hebrews 13:5
Arnold Machel, CFP® lives, works, and worships in the White Rock/South Surrey area. He is a Certified Financial Planner with IPC Investment Corporation and Visionvest Financial Planning & Services. In 2022 he was named as one of BCs Top Wealth Advisors by The Globe & Mail, and Visionvest (his firm) has been voted Best Investment/Financial Advisor by Peace Arch News readers for the past two years in a row.
Questions and comments can be directed to him at dr.rrsp@visionvest.ca or through his website at www.visionvest.ca. Please note that all comments are of a general nature and should not be relied upon as individual advice. The views and opinions expressed in this commentary are those of Arnold Machel and may not necessarily reflect those of IPC Investment Corporation. While every attempt is made to ensure accuracy, facts and figures are not guaranteed.